New Kids on the Block
Ning Network Spotlight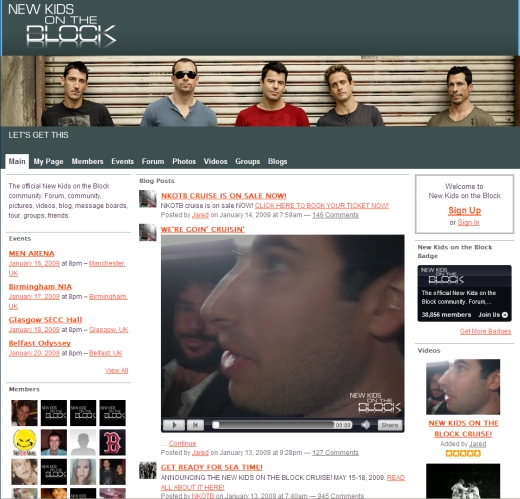 New Kids on the Block's social network on Ning is fully integrated into NKOTB.com's homepage – a key benefit of you controlling the visual design of your own social network on Ning. You can set up on your social network a design, logo and navigation that exactly mirrors your pre-existing website. The result is a seamlessly integrated experience for your members and people clicking off your website to your new social network on Ning.
A comparison of the NKOTB's website and social network, as well as a few other highlights after the jump.
Here's NKOTB's website homepage: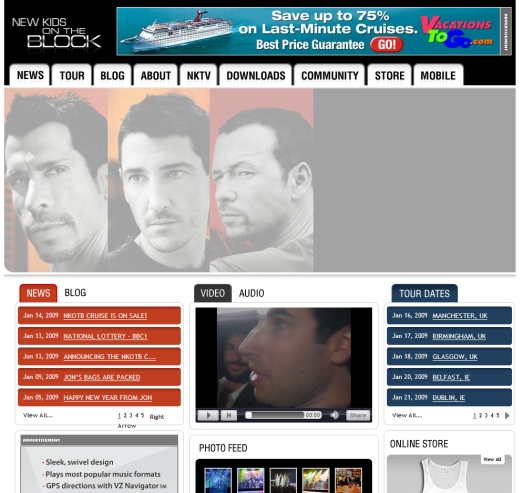 Clicking on Community takes you to New Kids's social network on Ning. Now, they decided not to domain map the social network, but that's an option too.
As you can see between the website's homepage and the social network on Ning, they have mirror logos, background images and design, although they have made the decision to make the social network subtly different from the NKOTB's homepage.
They've also done a great job with the video watermark, as you can see here with their embeddable video player which – as always – links back to the video on the network itself:
With 38,858 members, NKOTB's social network isn't just about great design. They are using exclusive content, announcements and the features themselves to drive a vibrant fan network. Interestingly, they've also used their social network to make decisions about where to tour, what to offer fans and a variety of other things. It's their own survey panel.
The New Kids on the Block social network is chalk full of great ideas and should be on the short-list for any Network Creator looking for a bit of inspiration.