Qpod car owners gather online
Ning Network Spotlight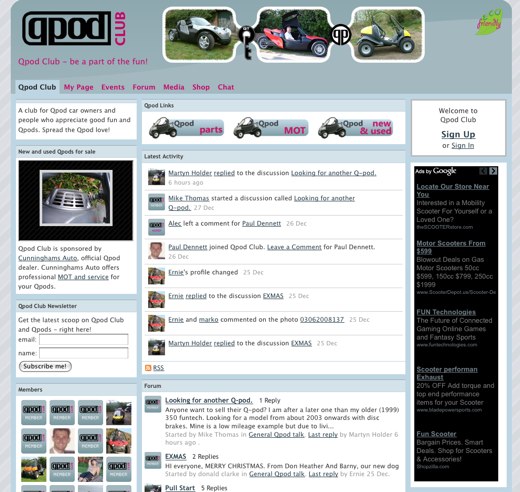 We wrote not long ago about the Mondo Minis social network for Mini Cooper lovers, and now we'd love to share with you a social network celebrating an even smaller and stranger set of vehicles, the Qpod Club.
Qpods are a really unique combination of road vehicle and ATV, and their distinctive look gives them a special charm for Qpod Club members. Members aren't afraid to test the limits of their trendy little cars, and have photo proof of some pretty daring rides.
Also like the Mini Cooper, Qpods are also easy to modify, and members have had a blast pimping their rides. Qpod Club has just the same wonderful sense of shared obsession and enthusiasm as Mondo Minis, and members happily help with customizations and purchasing in the network's highly active forum. There's even special Qpod apparel for the true die-hards.
You can't help but smile on your first view of a Qpod, and the more you learn about the spunky microcars, the more you'll see the reasons for Qpod Club.