Relax with fellow ladies at Cafe Belle Gray
Ning Network Spotlight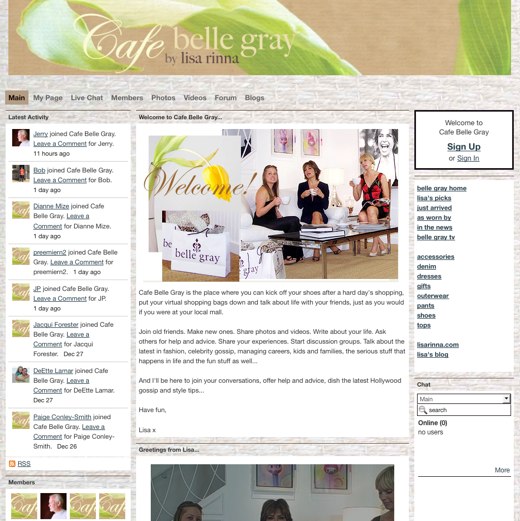 Actress Lisa Rinna's chic and brand new network Cafe Belle Gray is a luxurious stop for ladies looking to connect with each other, chat with Lisa and learn all about her clothing store, Belle Gray.
This is no vanity project for Lisa; her enthusiasm for the store, and the social network is readily apparent in the videos she posts. Lest you think celebrities don't get excited about clothes and designers, check out these videos on Diane Von Furstenburg and Elizabeth and James. Lisa clearly loves her store and sharing her ideas with potential shoppers and network members.
In Lisa's own words, "Cafe Belle Gray is the place where you can kick off your shoes after a hard day's shopping, put your virtual shopping bags down and talk about life with your friends." So when you need to set down those virtual bags, there's a comfy virtual chair waiting for you at Cafe Belle Gray.