Revisiting a much-larger Dub Pages
Ning Network Spotlight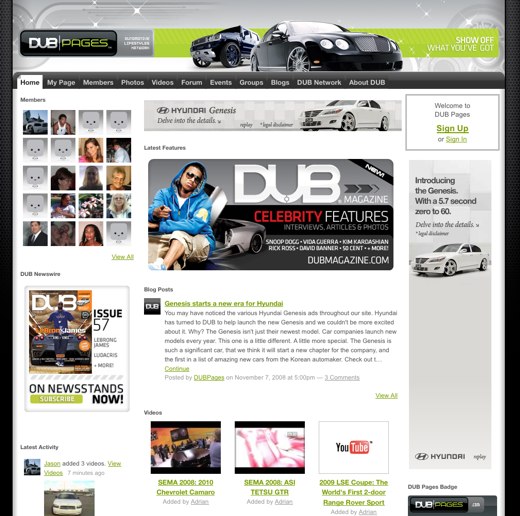 We last blogged about DUB Pages in October 2007, back when the network was around 500 members. A year later, it's got more than 26,000, and still delivering the same great, detailed information for car modders and car lovers.
Dub Pages is the online community created and sponsored by Dub Magazine: The Original Automotive Lifestyles Magazine. While this association with Dub Magazine brings Dub Pages a solid funnel of members, that alone can't explain the adoption of Dub Pages. As with any social network, Dub Pages has taken on a life of its own. In fact, this ability to take off is one of the key benefits of extending your website or blog with your own social network. It scales with limited moderation or involvement from you.
More than 44,000 photos cover a lot of cars. DUB Pages is particularly good about providing detail shots, with custom spoilers, wheels, and rims making up just some of the advanced parts modifications represented.  Some members have even posted photos of their customized fancy rides from video games.
Members are working to help each other customize their own cars. They've got experience in even the most nuanced areas of car modification like wheel lights and wheel and tire dimensions for a proper look, and they're sharing their knowledge and expertise.
Congrats to Dub Pages and its members for creating and growing this great social network.