Start Thinking Big
Ning Network Spotlight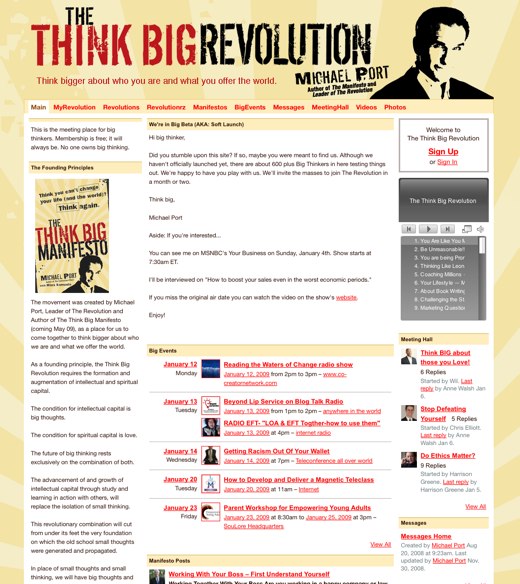 The Think Big Revolution is a network where you can "think bigger about who you are and what you offer the world." Michael Port, the network's creator and author of The Manifesto, wanted to create a meeting place for big thinkers, and he has done just that.
Even though the network has not officially launched, The Think Big Revolution is already more than 800 members strong. Members are most active in the MeetingHall section where they discuss a range of topics from ethics to happiness, sleeping to multitasking. The blog section, entitled Manifestos, previews Michael's upcoming book and provide tips from the pros. Recent manifestos include "Working with Your Boss-First Understand Yourself", "What's Behind Your Goals?" and "Dare To Begin…".
For members who want to get involved offline, the BigEvents are a great place to start. With six events in the month of January alone, there's no time like the present to start thinking big and join The Think Big Revolution.