Voicemails, right on your profile page
Ning Apps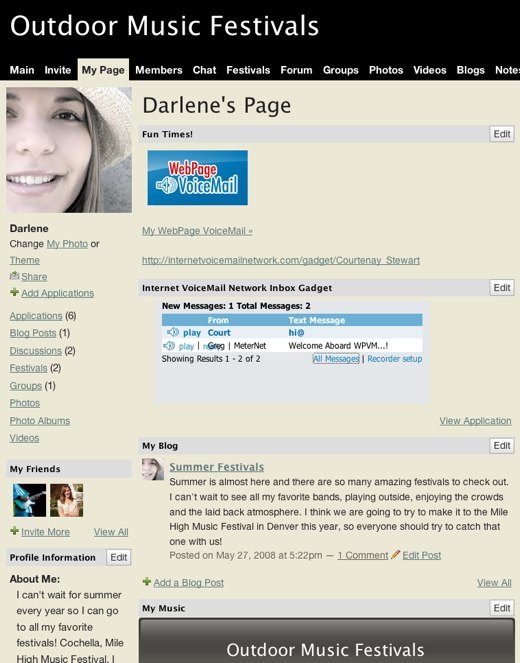 Take messaging to the next level with the "Internet VoiceMail Inbox Gadget." Once you subscribe to the service and add this OpenSocial application to Your Social Network on Ning, you can receive voicemails on your site and check your voicemail inbox right on your profile page.
Getting started is quick and easy. First, sign up for a WebPage VoiceMail account at internetvoicemailnetwork.com. It runs $5.00 per month on the annual plan through Paypal, and there is a 30-day free trial after the signup. Next, you can personalize your "Call Me" recorder page. This is the page members will be brought to when they click to leave you a message on your profile page.
To check your private voice messages, you can sign in to your inbox and play the message you would like to hear. To stay up-to-date on the latest product news, head to IVMN Inbox Gadget's new network on Ning.
You will definitely want to check out the current product news. Greg Wible, Internet VoiceMail Inbox Gadget's CEO, gave us a full description of their exciting promotion:
"For the next 200 Network Partner sign-ups, we'll include two (2) free WebPage VoiceMail annual accounts for qualified Network Creators who sign-up as a Partner and Pledge to feature our service on their networks that have at least 100 members ($120.00 value per network x 200 Networks = $24,000…Free!)
For more information about IVMN Inbox Gadget's, check out our interview with Greg after the break.
How would you describe the Internet Voicemail Network Gadget in a nutshell?
In the big view, we have three pieces: a global network, an online voice message service on that network that people subscribe to and new gadgets for subscribers to access the service.
1. The Network: The Internet VoiceMail Network is the backbone that enables anyone from anywhere worldwide to leave a voice message through their computer browser. IVMN is a division of MeterNet Corporation.
2. The Service: Subscribers to our our WebPage VoiceMail Service on IVMN get tailored versions of their Personalized Recorder Page and a Private VoiceMail Inbox along with storage of up to 200 messages. The WebPage VoiceMail Service uses a simple interface and is designed to be "late-adopter" friendly. The service is a flat-rate subscription that runs $5 per month on the annual plan through Paypal (there are no ads and no 'per minute' charges). Check out a free demo here.
3. The IVMN Gadgets: We have new Inbox Gadgets and Recorder Gadgets. Using our new IVMN Inbox Gadget, subscribers to the WebPage VoiceMail service enjoy online retrieval of their messages from within their OpenSocial Network profile pages. We recently received approval to have our new Inbox Gadget be included in the Ning OpenSocial Application Directory.
Check out the gadget in action: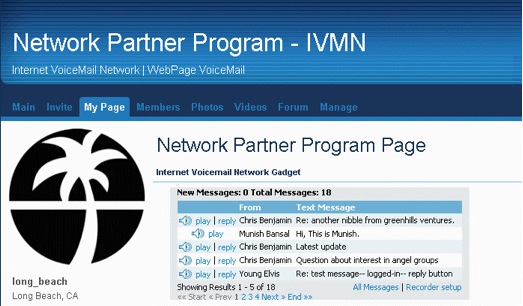 Subscribers can also place a new "Call Me" IVMN Recorder Gadget on their network or profile page that links directly to their Personalized Recorder Page. The IVMN Recorder Gadget code is user-specific and the code is available within each subscriber's recorder setup page on IVMN.
What is your favorite aspect of the application?
We use WebPage VoiceMail in-house to keep our virtual team connected efficiently across three continents and day/night opposite time zones. Naturally, email and IM are fine, but they can't match to the nuances of voice messages to keep in touch on a regular basis … without any schedule hassle. With the new Inbox Gadget, we have easy message inbox access from within our other network pages.
What's been the most surprising thing you've encountered?
We are quite amazed at the level of immediate positive interest from users all over the world to our initial Inbox Gadget release, and now we need to work on converting that interest into sign-ups.
What would you say to someone who wants to create an application?
1. Define: is your target user going to have 'newbie' or 'guru' experience level?
2. Decide: is your app idea going to be free or have some revenue component?
3. It's early, be patient. The OpenSocial spec continues to evolve toward v1.0
4. Utilize all the resources at https://developer.ning.com including the forums
5. Go for it…!
What plans do you have for Internet Voicemail Network's future?
For 2009, we'll focus on growing and supporting our Network Partners to enhance their site communications and potential for recurring revenues with our WebPage VoiceMail service. We also will be making targeted efforts to extend our service into the international Military Family community.
Our long-term development road map includes programming our Inbox Gadget application to support mobile smartphones, release the VoiceMail Pro deluxe service and continued Inbox Gadget rollouts to more OpenSocial networks. We forecast 2,000,000 subscribers on IVMN by the end of 2012.
Tell us more about yourself and where you are from!
Internet VoiceMail Network is part of MeterNet Corporation, and I work out of the Southern California office near Long Beach. I founded MeterNet in 1996 and over the years our small virtual team has developed and marketed, along with partners, a number of solutions that target "late adopters" with simple products and services. We certainly have paid plenty of tuition on what does not work with "newbie" users, and we continue to learn and adapt along the way to help grow our customer base.
We look forward to working with the Ning Network Creator community with our Internet VoiceMail Network Partner Program. More Partner Program info coming soon at http://meternet.ning.com
PS: I first learned about the amazing world of Ning about six months ago from Nelson over at http://TransplantCafe.com. please go check out and support Nelson's great work!
About OpenSocial: An OpenSocial application is a feature that you can add to your profile page for fun, communication or business. Add it to your page by clicking the "Add Applications" link in the left hand column, beneath your profile photo. This will take you to the application's directory, where you can scroll through the list of available applications or use the search box to jump to a specific one. Then click on the "Add to My Page" button and and confirm by clicking "Add Application".