Worn and beautiful, sea glass
Ning Network Spotlight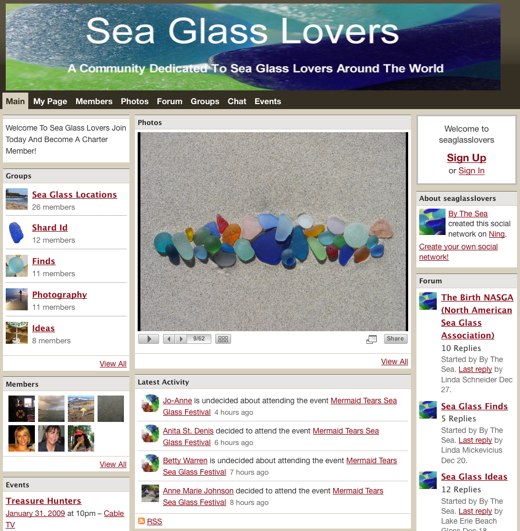 The members of the Sea Glass Lovers network know that sometimes there's beauty where you least expect it. They've found it in sea glass, and have gathered on the network to share the best of their discoveries and, in many cases, create art from them.
They've put up an amazing array of photos, with some uniquely shaped pieces, lovely compilations, and even hand-made sea glass art, like this window by a Dutch artist. The custom art side is actually taken quite seriously, and members have bent their skills to make everything from bottle stoppers to baskets. It's really cool to see how much creativity is applied to such a simple starting material.
Members have also come together to track down the history of the pieces they've found, and have a very deep array of knowledge. Members in the Shard ID group were able to place one piece as belonging to a hundred-year old Milk of Magnesia bottle, and even found photos of intact bottles of the same type. With help from Sea Glass Lovers, every find is a window to the past.
Sea Glass Lovers has taken the simply hobby of collecting sea glass and given members a way to share it, and the result is a great deal of collected beauty and a rich sense of history. Stop by, and you'll start walking beaches with an eye towards what pieces you, too, can discover.