Coming Next Week – A New Ning.com
Updates
For those of you who read the Ning Blog, you can see that we've been busy.
Continuing on this theme, next week we're releasing the new Ning.com that we're excited to get into everyone's hands. We mentioned this in early January and now it's ready for its debut.
We've heard from members across the Ning Platform the frequent request for better ways to:
Discover new, "high velocity" social networks on Ning
Keep up-to-date on the latest activity of your friends and social networks on Ning
The new Ning.com is designed to address both of these requests and provide a set of enhanced services to members of one or more social networks on the Ning Platform. Now, when you sign up for Ning, you'll see a set of recommended social networks (click on the screenshot to see a full size version):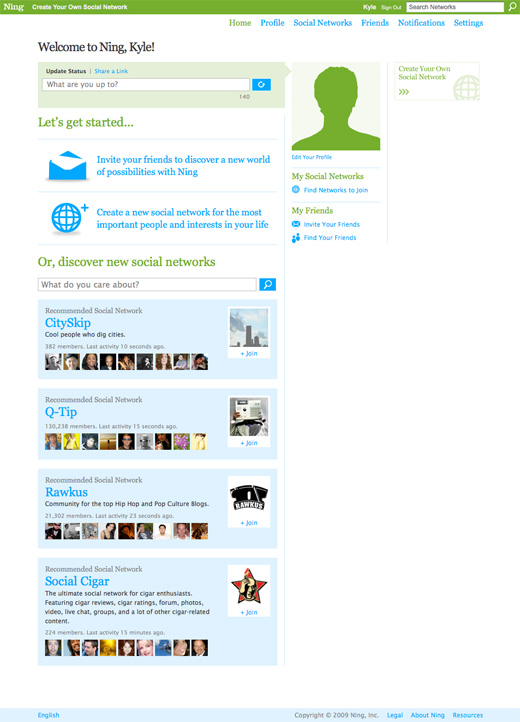 If you already belong to one or more social networks on the Ning Platform, you can click on your name in the Ningbar (in the top, upper right of the social network) or go to Ning.com to see your new signed in Ning.com homepage. It consists of the activity across your social networks as well as other recommended social networks (click on the screenshot to see a full size version):
The Details
You have full control over who sees your new Ning profile. While it will default to being public to anyone signed into Ning, you can make it private at any time, so only you or your friends or the members of your social networks can see it.
If you are a member of a private social network, only other members of that private social network will see the activity from it. This Ning latest activity feature is designed to enable you to keep up with what's happening across your social networks, not broadcast everything you are doing to the world.
As a Network Creator, if you have chosen to purchase the removal of additional Ning promotional links, your members will NOT see a link to the new Ning.com. For the social networks on Ning where the Network Creator has not purchased this premium service, members of that social network will see their signed in name in the Ningbar and that link will go to this new Ning profile.
In both cases, when a member signs into Ning.com they will have a Ning profile with their social networks and friends across the Ning Platform.
Recommended social networks are calculated based on an algorithm that we've created to track the velocity of a social network. So, for example, as The Twilight Saga continues to add close to 10,000 new members a day, we'll let you know about it via your new Ning profile. In the coming weeks, we'll continue to evolve the algorithm and layer in recommendations that combine this velocity with relevancy to the social networks in which you are already a member.
And that's about it. We're in the homestretch of getting this out so there may be a few minor changes from these screenshots, but you should be able to get the gist of it.
And, as with everything new around here, we hope you'll take a look, let us know what you think, and, if you hate it, wait a week before writing it off entirely. We welcome your feedback and will continue to rapidly iterate the new Ning.com to be as compelling and valuable to you as possible.
Thanks!