Afro-punk's social network: community.afropunk.com
Ning Network Spotlight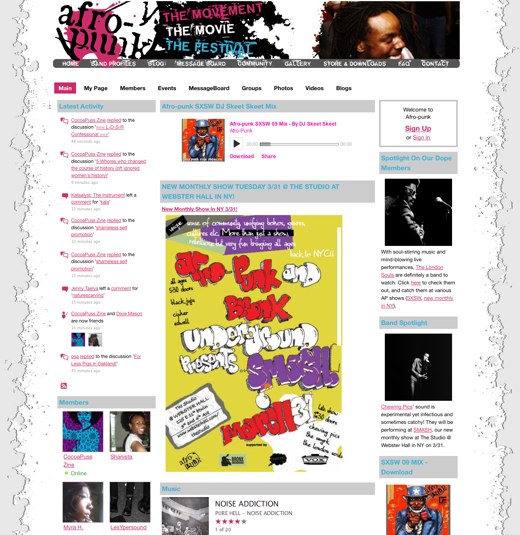 Afro-punk is the official social network of the website of the same name, a hub for the Afro-punk movement, movie, and festival.
Afro-punk's well-categorized Discussion forum and in-depth Events section are two of the social network's most active features. Members have contributed over 9,000 of their favorite Afro-punk photos. Impressively, the social network's 2,000 members have also contributed nearly 1,700 videos.
The social network's creator Matt and administrators Lou and James do a great job spotlighting the interesting things their own members are doing in the Afro-punk scene. In the right column, two bands who belong to the social network, The London Souls and Chewing Pics, are featured with their profile photo, links to their profile page, and a few sentences on what makes each so special.
The Afro-punk social network also points their social network to their own domain. The main website is located at www.afropunk.com; the social network is located at the subdomain community.afropunk.com.
If you'd like to have your social network on Ning appear under your own domain name, it's easy to set up. You can also set up this premium service so your social network appears under a subdomain of a domain you already own. In this case, the Afro-punk social network appears under the subdomain "community" of the domain "afropunk.com."
To set this up, you'll first need to own a domain. If you don't already own the perfect domain you'd like to use with your social network, GoDaddy has a special promotion.
Next, you can purchase the premium service to "Point your domain name to your social network" from the Manage tab on your social network. Just click the "Premium Services" link. Once you've purchased this premium service, head to your registrar's website to set this up. Just follow one of our detailed tutorials on the Ning Help Center, replacing "www" with your subdomain of choice, like "community," "my," "network," or any other subdomain you'd like.