New Pages & Appearance Changes Coming Monday
Updates
On March 23rd, we're putting out a few appearance changes on your social network on Ning as well as 50 new themes we'll talk about in a separate post.
Let's start with the things you'll notice right off the bat…
New Welcome Message for Your New Members
With this release, your Welcome Box for new members will be brand new. Your new members will now see the following welcome message and prompts (full-size version here):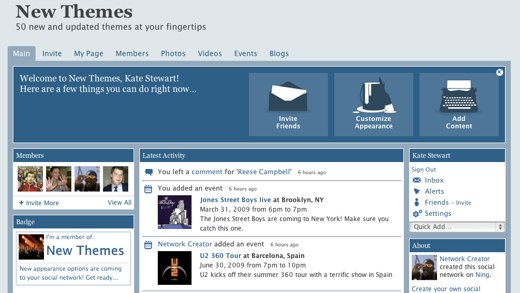 As you can see, the Welcome Box will match the theme and design of your social network. We've also reduced the number of new member "calls-to-action" to the most important ones: invite friends, add content, and customize the profile page (or add applications, if you don't actually let your members customize their profile pages).
If you're a Ning Creator signing in to your social network — and you haven't closed the Welcome Box — you'll also see a new Welcome Box. Again, it's designed to encourage the three most important actions you can take to grow your social network: invite members, customize your appearance, and add content. Here's what it will look like to you and your administrators (full-size version here):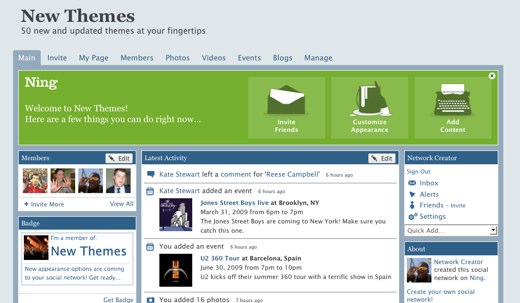 New Invite Page
With this release, your social network's invitation page has also been redesigned with a much simpler format. The new invite page now presents all the same options you have today in a compact, simple layout. Here's a preview of what the page will look like: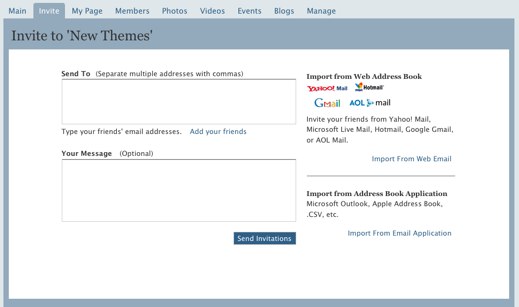 New Appearance Page
Your social network's Appearance Page (reachable by the Manage tab on your social network) has been redesigned and updated. Here's the preview (click on image for large version):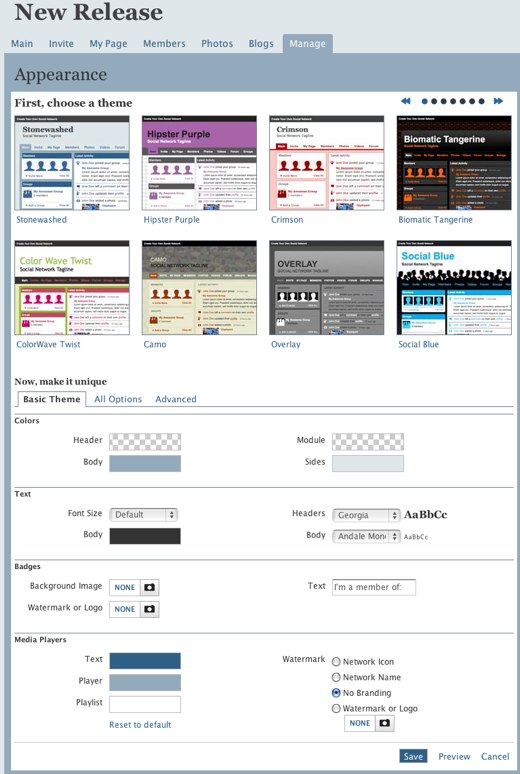 The goals with this new layout were to:
Simplify how the current options are presented to Ning Creators on the Appearance Page.
Expand the number of visual elements Ning Creators could control from the Appearance Page.
Enable you to better view new themes and preview them in a full screen version before deciding on them.
Present the customization options for Badges and Media Players directly in the Appearance Page.
***Important***
There is one option that is no longer available from the Appearance Page that you will notice: you can no longer remove the Ning logo for free. You'll still be able to remove it if you'd like by purchasing the premium service "remove promotional links" for $24.95 per month.
If you are already removing promotional links, then you won't see the Ning brand show up on your social network and this will be a moot point. For those that have chosen the option to keep our promotional links but remove the Ning logo, the Ning logo will now show up on your social network as of Monday.
New Badges
Lastly, Monday's release will have an entirely new badges page, dedicated to badges as opposed to a page being shared with badges and players. It's now easy — and simple — for your members to quickly customize a great-looking badge, and grab the embed code to post on their website or blog, or on another social network on Ning (full-size version here):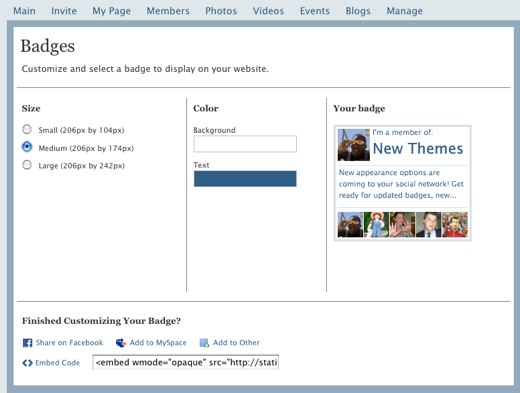 Best of all, any badges you've already embedded elsewhere on the Internet will be automatically updated when this release is live. As always, private social networks, of course, will only display the basic small badges — without any avatars or private information.