Social Actions' social network: my.socialactions.com
Ning Network Spotlight
Ning's Tips and Tricks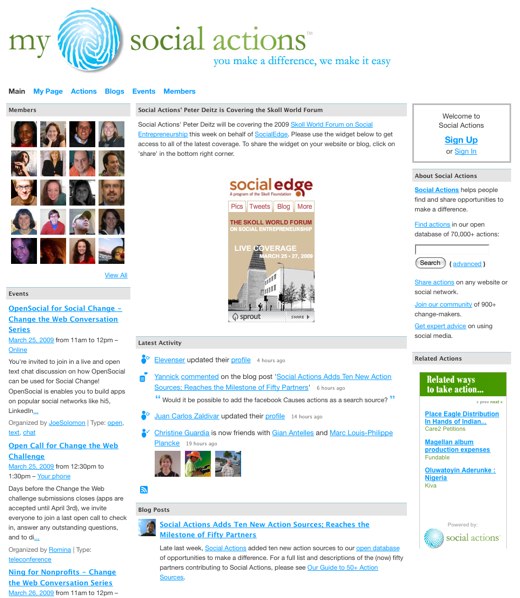 My Social Actions (my.socialactions.com) is the social network component of Social Actions, a nonprofit that helps find easy ways to enable people to do good in their communities and around the globe. This social network is a great example of how to create a seamless integration between your social network on Ning and your main website by pointing your own domain name to your social network and customizing your social network's header.
The header on My Social Actions is a redesign of the main website's logo, reading "My Social Actions" to emphasize the role of each individual member. Making a great customized header is one of the best ways to brand your social network and help integrate it with an existing online presence.
Another way that My Social Actions has connected itself with the main Social Actions website is with domain mapping. Like the Afropunk social network, My Social Actions also points their social network to their own domain. The main website is located at www.socialactions.com; the social network is located at the subdomain my.socialactions.com. The subdomain "my" again reinforces the importance of individual actions on this social network.
If you'd like to have your social network on Ning appear under a subdomain of your own domain name, it's easy to set up. Just purchase the premium service to "Point your domain name to your social network" from the Manage tab on your social network. Once you've purchased this premium service, head to your registrar's website to set this up or check out one of our detailed tutorials on the Ning Help Center.