The New Ning.com
General
Ning News
Updates
We're excited to launch a new Ning.com on Monday, March 9th. As Gina mentioned yesterday, the new Ning.com will provide members of the social networks on Ning with better ways to discover and stay connected to the social networks on the Ning Platform.
Not only will this make the experience of being a member of one or more social networks on Ning easier and more compelling, but it will benefit Network Creators with both better discovery by prospective members as well as recurring usage by existing ones.
Send Prospective Members to Your High Velocity Social Networks
With the new Ning.com, when new people sign up for the Ning Platform via www.ning.com, they will see a list of recommended social networks. These recommended social networks will be identified by their momentum and popularity.
This means that if you have a fast growing social network on Ning and want to add new members, this may help drive new members to you.
Click on the screenshot to see a full size version: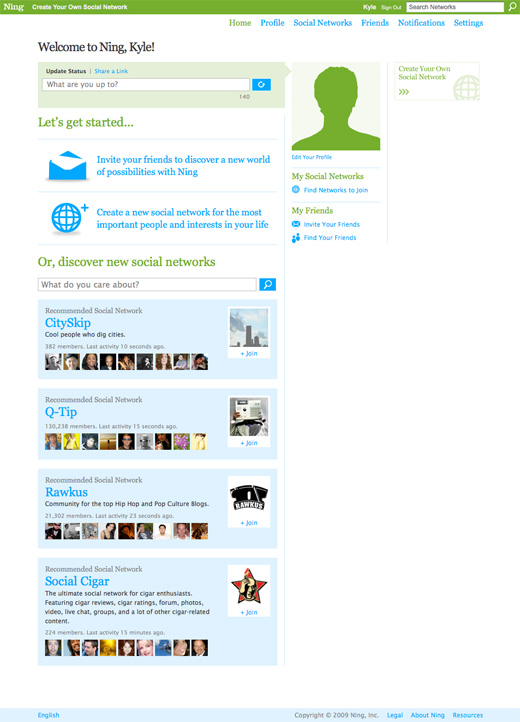 Send Members Back to the Social Networks They've Joined
If you already belong to one or more social networks on the Ning Platform, you can click on your name in the Ningbar (in the top, upper right of the social network) or go to Ning.com to see your new signed in Ning homepage. It consists of the activity across the social networks someone has joined. Click on the screenshot to see a full size version:
By giving members of the close to 900,000 social networks on Ning the ability to stay up-to-date with the activity on the social networks they've joined, they will have an increased likelihood of returning to your social network, resulting higher recurring usage of your social network by your members.
To echo Gina again, offering valuable services to the members of social networks across the Ning Platform has always been fundamental to our vision. It's essential to making a world of millions of social networks possible. Without this type of central hub to provide ongoing activity, people simply can't track everything that's going on across an ever increasing number of social networks.
While unobtrusive when in a specific social network, members need an accessible and seamless connection between social networks. That's the goal of the new Ning.com.
The Details
If you have created a Ning ID, you will by default have a Ning profile. You have full control over who sees your Ning profile. At launch, your new Ning profile will default to being visible to anyone signed into Ning. You can make it visible to just you, just your friends, or just members of your social networks by going to your Settings page and updating your Privacy Settings. When you choose to make your Ning profile just visible to you, you'll be filtered out of being shown anywhere on Ning.com.
Your private social networks will default to be invisible to anyone viewing your Ning profile. You can make them visible at any point in time by updating your Privacy Settings. If you are a member of a private social network, only other members of that private social network will see the activity from it. As we've mentioned before, the new Ning is designed to enable you to keep up with what's happening across your social networks, not broadcast everything you are doing to the world.
As a Network Creator, if you have chosen to purchase the removal of additional Ning promotional links, your members will NOT see a link to the new Ning.com directly from your social network. For the social networks on Ning where the Network Creator has not purchased this premium service, members of that social network will see their signed in name in the Ningbar and that link will go to this new Ning profile.
In both cases, when a member signs into Ning.com (https://www.ning.com) they will have a Ning profile with their social networks and friends across the Ning Platform.
We will continue to update this post on the new Ning.com.
Thanks in advance for your questions and feedback!