Add an announcement to Latest Activity
Ning's Tips and Tricks
Yesterday we showed how you can add facts to your social network's Latest Activity feature. You can choose from the built-in trivia generated by your social network, including how many videos have been uploaded, who has posted the most photos, or what the most popular discussion is to date.
You also have the ability to post your own customized announcements to your social network's Latest Activity feature. These messages will be published straight to the Latest Activity feature on the main page of your social network, alongside all of the other things people are doing on your social network.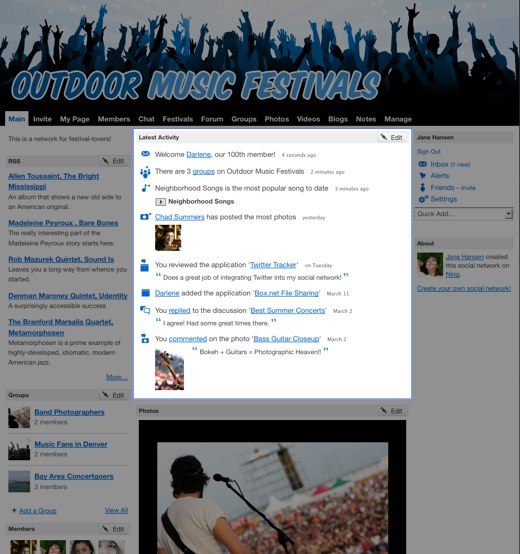 Writing your own message gives you the freedom to post an announcement about anything, at any time. While a broadcast message is a great way to spread important news, adding your own message to the Latest Activity feature is like leaving a short, quick reminder or announcement for all members to see. Your announcement can be up to 140 characters long, and can even include HTML.
For example, you can periodically remind members to invite their friends or join in on a specific discussion just by dropping a note into the Latest Activity feature. You can also let members know about new features or milestones this way. When FightJungle hit its 200th member, the Network Creator let everybody know about it with a quick note on the Latest Activity feed.
To add a custom announcement to your Latest Activity feature, go to the Manage page and click the Latest Activity link.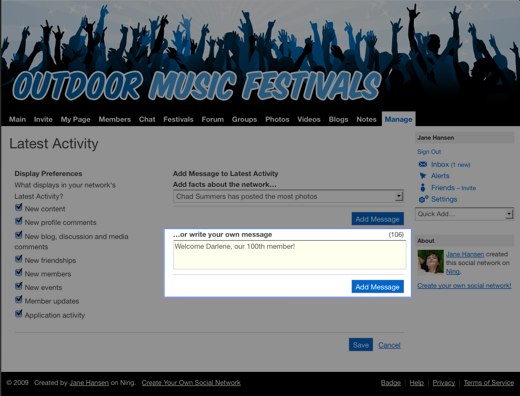 Locate the "…or write your own message" section. Type in up to 140 characters of text and click "Add Message" when you're ready to post it.