Clubbing, music and more at Entertainist
Ning Network Spotlight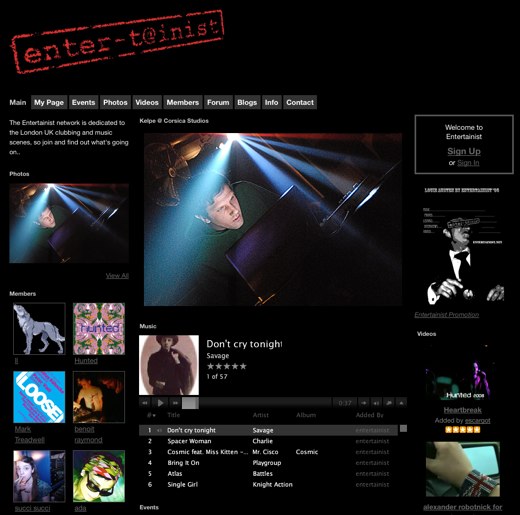 The Entertainist is a social network that has the pulse on the London clubbing and music scene. The Entertainist is all about events, so they've naturally centered their social network around the Events feature. The social network's calendar is packed with multiple events each day, especially Thursdays and Saturdays, London's most popular nights for clubbing. The events — almost exclusively club events — show off the best of the London clubbing scene, such as Apes and Andriods, an American import from Brooklyn that will "make you want to dance." For an all-night party, check out This is Not London, which will take over the Kings Cross Scala from 7 p.m. to 4 a.m.
Events are a great way to drive viral growth to your social network. That's because when you create an event, you can invite all of your friends to attend, even those who haven't joined your social network. People you invite to an event will often join your social network, create events of their own and invite their own friends to join. Best of all, anyone can invite others to an event, not just the person who created the event.
To get started using the Events feature, just head to the Manage tab, click on "Features," and drag the events box onto your social network.