Connecting consumers to local ranchers
Ning Network Spotlight
Your Ning Network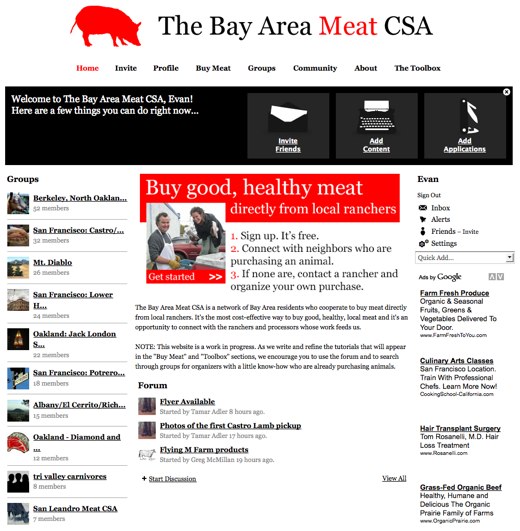 Bay Area Meat CSA is leveraging the power of social networking — and the Ning Platform — to create a new way to band consumers together to purchase meat from locally raised and fed livestock.
The social network, aimed at meat eaters in the nine-county San Francisco Bay Area, uses the groups feature to connect residents with their neighbors, by funneling members into the group for their local area. Members are then encouraged to "connect with neighbors who are purchasing an animal," or, if none are, to contact a rancher directly.
As an example, 26 people have joined the Mt. Diablo group. Members have posted more than 50 comments on the group, and have arranged for the purchase of a hog for $1,300. Members have been able to find almost 10 people who want to split the meat — and they're even considering ordering a second hog! These orders are being replicated elsewhere, in groups like Potrero Hill and Oakland – Jack London Square.