Join the Think Big Revolution
Ning Network Spotlight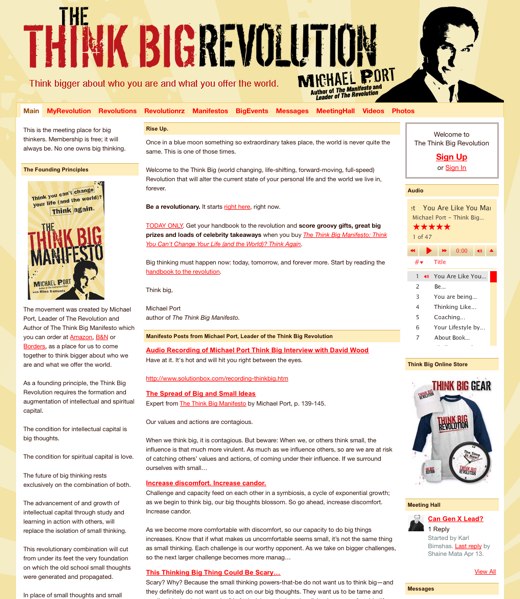 Michael Port has a mission: to challenge everyone he meets to "think bigger about who you are and what you offer the world." He created his social network, the Think Big Revolution, to empower people to get involved and do big things together, like championing causes and making real changes.
Port has used the Language Editor on his social network to reinforce what the Think Big Revolution social network is all about. He's renamed the Groups feature to Revolutions. Members of the social network have taken the opportunity to build their own revolutions around what they care about, from owning small businesses to healthy living to turning passions into profit.
Port calls blog posts manifestos, and he and members blog about what they stand for and the changes they are making in themselves and the world around them. He's even renamed members to Revolutionaries, portraying that anyone participating in this social network is part of a revolution to change the world.
With feedback from members of the Think Big Revolution, Port authored The Think Big Manifesto, which was released on Monday and has since climbed Amazon's bestsellers list (it's currently at #33 on Amazon!). I got the chance to ask Port a few questions about the book and the Think Big Revolution this morning. Check out his answers after the jump.

Why did you create a social network?
The single most important act of a big thinker is to help others think big. A manifesto can't live in a vacuum. I looked around for platforms suited to helping people spread their messages, because I really wanted to empower individuals to create their own revolutions, join in on other people's revolutions, and spread the word about thinking big. I chose Ning, not just because of the technical specifics of the platform, but also because of what I think Ning stands for, which is big and expansive thinking and expressiveness. It also contained all the tools to help people spread the word about their revolutions.
How has the social network helped further the cause of the Think Big Revolution?
When I first launched the Think Big Revolution, one of the first things I did was transfer all of my blogging over from my external blog to the social network. I renamed the blog posts to "Manifestos;" anyone can write a manifesto on the Think Big Revolution. I blogged about my work on the book, The Think Big Manifesto, and asked for comments from the initial group of beta testers I'd invited to join me on the social network. Their comments drove what I was writing. It was truly a collaborative initiative, which is perfect because that's what the Think Big Revolution is all about. Other people got really into it and started putting up their own manifestos and ideas, because I was giving them the platform where they can speak into a megaphone to an audience that is supportive and receptive to big thinking.
What's the most surprising part about running the Think Big Revolution social network?
I'm pleased with how so many people show up to support each other in what they want to do and in thinking big. A lot of people on here aren't getting support from their families and friends and communities, but on the Think Big Revolution they get support for thinking big. That's one of the main reasons to do this: everybody gets unconditional support and we're all encouraged to stand up and stand out.
What's your advice for people new to your social network?
I tell new revolutionaries to go and join a revolution in progress, one that you are actually interested in, led by interesting people. Get involved in one that seems interesting to you. Do that and you'll start to see how to express yourself and learn how to think big in this environment, where people are so receptive. Once you're comfortable with that, it's a lot easier to go out there and think big even when they're not surrounded by supportive big thinkers.