Knit Picks: A Knitting Community
Ning Network Spotlight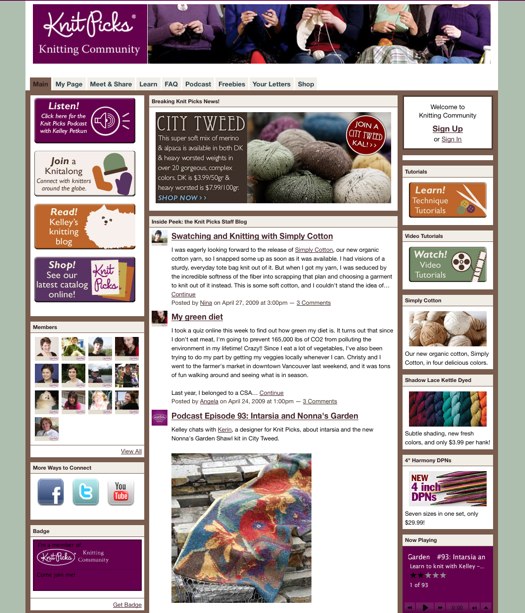 Knit Picks Community is the social network of Knit Picks, a retail site focused on providing high quality knitting supplies at affordable prices.  The Knit Picks staff is extremely involved in the social network, especially Xena (owner Kelly's dog) who maintains her own blog. The staff also produces a weekly podcast.
Over 12,000 knitters have joined the Knit Picks Community and many of them are taking part in Knitalongs to get support on their projects. There are 19 Knitalongs happening right now to help knitters in making sock monkeys, cardigans, and completing their UFOs (or "UnFinished Objects). Knit Picks staff member Tina created the UFO Knitalong because "I don't know about you, but I have too many things started. Join me in my quest to get finish what I've started. The deal is, for every 2 projects I finish, I get to reward myself by starting something new."
The Knit Picks Community is a great place for members to extend their knowledge of knitting through written or video tutorials. If you're new to knitting, you can start off with a simple knit stitch or purl stitch before advancing to more advanced stitches. The Knit Picks Community also offers several freebies for members including knitting patterns and gorgeous wallpaper.
Finally, they've added an FAQ to provide their members with an introduction to the features on the social network. They've accomplished this by creating a forum discussion and adding a tab. You can add an FAQ or Help Center like this for your members by adding a note, page or forum thread and a tab using the Tab Manager. Then fill in popular questions you've received from members or cut and paste from the articles in the Ning Help Center.