Live the Chocolate Life
Ning Network Spotlight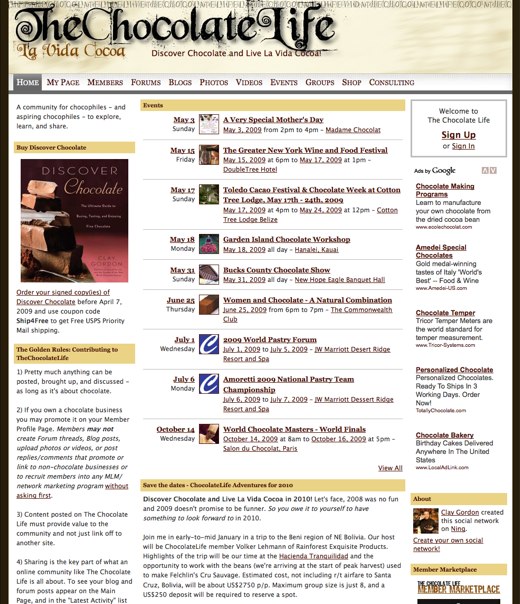 The Chocolate Life is a social network for where "chocophiles" can share their passion and explore the world of chocolate. Network Creator Clay Gordon is a chocolate critic and the author of "Discover Chocolate." While promoting the book, Clay realized tons of people were writing about chocolate. He created The Chocolate Life as the first purposeful social network for chocolate fans, and invites anyone with an interest in chocolate to join.
Clay does a great job making all members, from the casual chocolate fan to the die-hard chocophile, feel at home on The Chocolate Life. The main page of the social network has a good welcome center with tips and guidelines for using The Chocolate Life.
The Events section is full of diverse happenings like food and wine festivals and chocolate workshops. Members organize chocolate tastings and swaps and talk about starting their own chocolate businesses in some of the Groups on The Chocolate Life. They also share videos about making artisanal cocoa butter and ornate chocolate sculptures. Don't miss the Photos section, with 2500 shots of everything from cacoa pods to pruning a cacoa tree to shelling roasted cacao to Mayan chocolate bars, and even chocolate fashion.