Meet your neighbors
Ning Network Spotlight
Your Ning Network
At Ning, we're passionate about empowering you to create social networks around the things you care about. One trend we've seen recently is people creating social networks to connect with people they see in person on a daily basis: their neighbors.  By deepening relationships with their neighbors and people in their cities online, they are strengthening their offline ties to their cities and neighbors.
We love seeing how people are using social networks on Ning to meet and get to know fellow residents of their town or city and Wilmington's 3rd Street Plaza is a great example.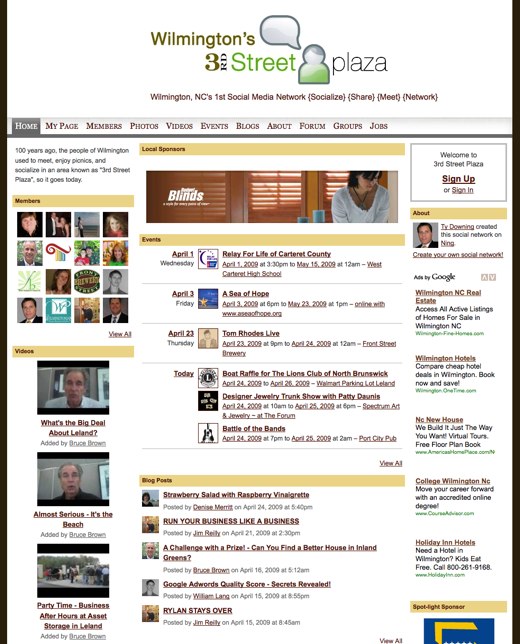 At Wilmington's 3rd Street Plaza, residents of Wilmington, North Carolina are encouraged to socialize, share, meet, and network. Resident Ty Downing created this social network as an ode to the spot in Wilmington where, decades ago, people would gather to get to know their neighbors. That spot was once known as 3rd Street Plaza.
Today, the plaza has been developed, and the tradition of gathering there long since lost. Ty's goal with 3rd Street Plaza is to forge lasting friendships in order to build a stronger community. Nearly 350 members have joined Ty to date.
If you're ready to create a social network for your town and want some more inspiration, here are a few more notable examples: Smaller Indiana, Brand Tampa, BoulderBeat, BuffaloME, Willow Glen 2.0, Why Leave Astoria and Detroitr.