Natural medicine at Bio Naturo
Ning Network Spotlight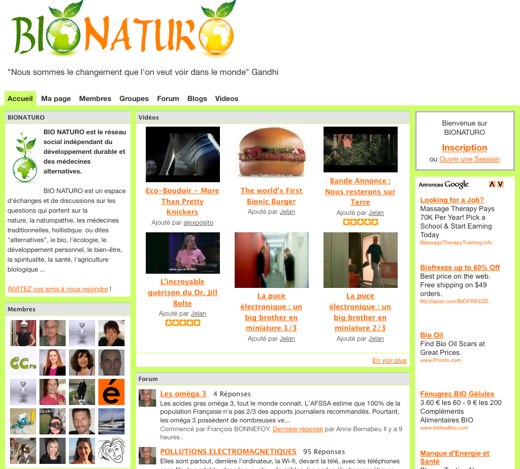 Bio Naturo is "le réseau social," the social network, of sustainable development and alternative medicine — in French, that is.
Members of Bio Naturo love watching videos and discussing issues on the social network's forum. They talk about pollution and show off new Web sites such as ETYC.org, "le portail collaboratif du développement durable." One member, Francois, warns fellow members about the environmental dangers of palm oil, or huile de palm, which is increasingly being used in cereals, margarine, ice cream, and bread.
Bio Naturo's groups feature is also very popular with members. Maman Nature has more than 30 members, and Bio Consom'acteurs has nearly 70. And even though Jelan, the creator of Bio Naturo, has added many features to the social network, they've followed the advice of The Perfect Social network and kept the navigation simple and limited.
Let's start create health website with Ning: https://www.ning.com/create-health-website/