New Release Coming Soon!
Updates
***Important Update***
Update as of April 19th: We're breaking this release into a few different ones and will come back shortly with an updated plan. Thanks!
In our next release, currently slated for the week of April 20th, we're rolling out a number of new things for your social network on Ning.
Here are the highlights:
New Status Updates
We've heard from a few of you that you wanted the ability for you and your members to quickly add status updates and share links with the rest of your social network. With this release, now you've got it. When a member updates his or her status or shares a link, the update or link appears on the member profile page as well as in your social network's latest activity feature on the Main page.
By default, the new status field will appear at the top of member profile pages, like this: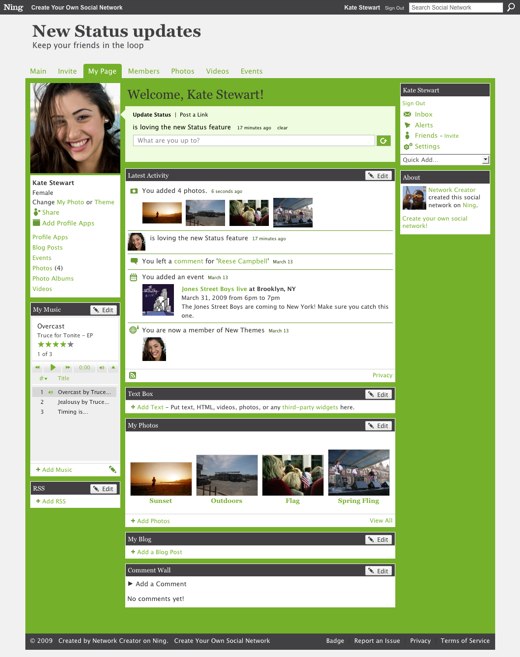 Your new status message will also appear in your new badge, which is yet another reason to show your love and membership for your social network by putting your badge on your blog, website, or profile page across the Internet.
If this feature isn't right for your social network, no worries. You can remove it from the new Advanced Controls option on your Manage page. When you remove the feature, it will no longer show the option to add status updates or share links to your members. If you want to keep this feature but just not show it in your latest activity feature, you can also control that from the Advanced Controls page.
If you and your members are Twitter addicts, this version doesn't yet have direct Twitter integration. Never fear though, you can pull in your Twitter stream using the Twitter Tracker, accessible from the Profile Apps directory on your profile page. You can also do what many do and just add a promo to follow you on Twitter from a text box.
Reorganized Manage Page
In this release, we've reorganized your social network's Manage page. All the same options are here but they are rejiggered a bit to make the important ones easier to access. Here's what it will now look like: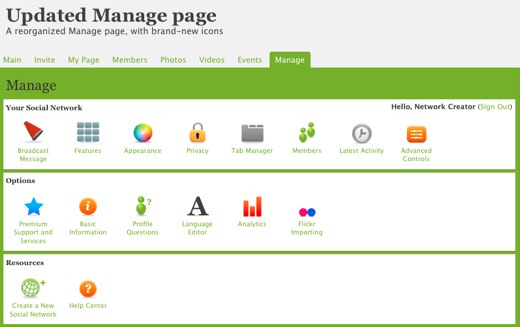 It might take you a little bit to get used to the changes and we appreciate that. Give it a few days and then let us know what you think.
More NC and Admin Control Over Tags and Titles
We've gotten a ton of great feedback from Network Creators of incredibly active social networks and one of your top requests is more control over tags and titles of content so you can keep your lively and active social network better organized.
This release will allow you to do exactly that.
Specifically, Network Creators and Administrators can now edit tags and titles of content as well as add tags to members' content. Tags added by Network Creators and Administrators won't be editable by the member who added the content. However, if a Network Creator changes a title and the member decides to change it back, the member's title will stand.
While this change may occasionally override the member's choice, the benefits of Network Creator control, social network organization, and better search and discovery outweighed the possible inconvenience to the member.
And that's it! If you have any questions or feedback, drop us a note in the Ning Help Center.
Thanks!