On court, online, it's UHLife
Ning Network Spotlight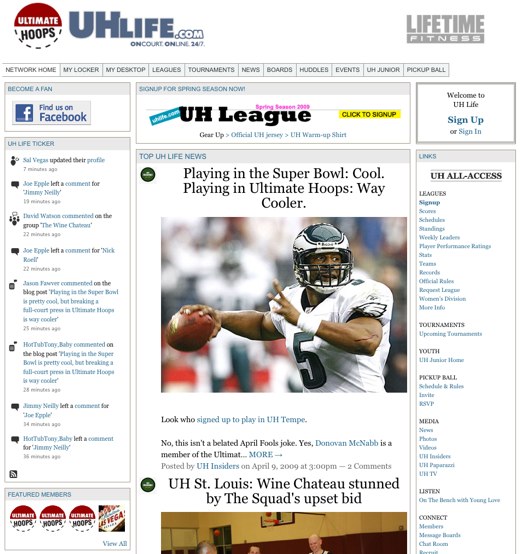 UHLife is serious about basketball. The social network, run by Life Time Fitness, is built to be the social hub of Life Time Fitness basketball leagues across the nation. The league also has a website, and they've done a terrific job of integrating their social network with their website.
You'll find the exact same tabs on both their social network and their website, and the navigation bar even has the same appearance  across both sites. Even better, they've taken advantage of RSS to complete the integration. Right on UHlife.com, their main website, the focus is on the "UH Network Ticker," where they pull in their Latest Activity feature's RSS feed to encourage visitors to head over to the social network.
With more than 2,000 members, their efforts are paying off. The UHLife social network allows teams to keep in touch between games — or between seasons — and it encourages new players to sign up and join a team. The social network is helping spread the word about the leagues, and even Eagles QB Donovan McNabb is getting in on the pick-up action!