The Ride:Well Tour
Ning Network Spotlight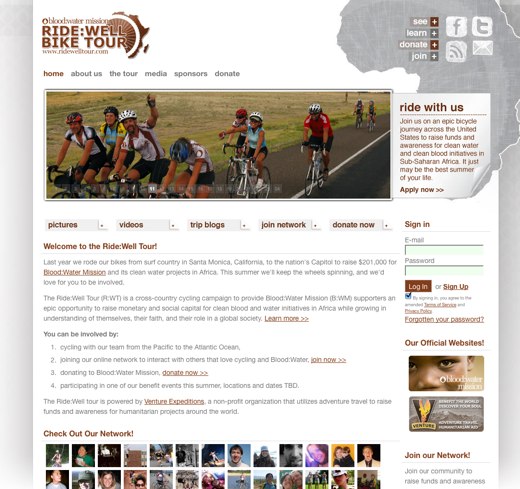 This summer, cyclists from across the world will be participating in a ride across the United States for a cause: clean blood and clean water initiatives in Africa. To raise money and awareness of the tour, they've created the Ride:Well Bike Tour social network.
The 3,172-mile ride starts in Santa Monica, California and ends near the Atlantic Ocean outside Baltimore, Maryland. According to the social network, "the tour team will be stopping at churches and community centers to share the vision of Blood:Water Mission and raise funds and active support for B:WM's clean water and clean blood initiatives in Africa." They've used the Pages feature, available on your own social network, to create a slew of descriptive pages where they provide a guide on how to apply to ride, a complete press kit and a list of ride sponsors.
Similar to adding a store, they also used the Pages feature to add a "Donation" section where members can choose a donation amount and enter their payment information without even leaving the social network.
For those wondering how the social network achieved such a fantastic design, it's a combination of a snazzy background image and the Ride:Well's single-column layout, which we showed off on the Ning blog a few months ago and can be added to your own social network with just a few lines of CSS.