Add a tab to your social network
Ning's Tips and Tricks
Your social network's tabs help your members navigate around your social network, and can guide their experience on your social network. When you add a new feature, like Photos or Videos, a new tab will be automatically be created that links to that feature's page. As the Network Creator, you have full control over the tabs on your social network, and they order in which they appear, with the built-in Tab Manager. With this feature, you can add a tab, remove a tab, rename a tab, change the order of your tabs, and even create sub-tab menus.
Because they are prominent on the top of your social network, adding new tabs is a great way to highlight the important content on your social network while making that content easily accessible to your members. You can add a tab pointing to a brand new Page, or you can add a tab that points to an existing page on your social network, like Albums or an important Forum discussion you want all members to see. Remember to keep tabs on your social network to only the most important things: too many tabs can overwhelm visitors and make it difficult for them to figure out what your social network is about.
On the Twilight Saga social network, three new tabs have been created: for books, for series author Stephenie, and for links.
You can add additional top-level navigation options for features or a new page of content using the built-in Tab Manager on your social network. To access the Tab Manager, head to the Manage tab and click on the "Tab Manager" link.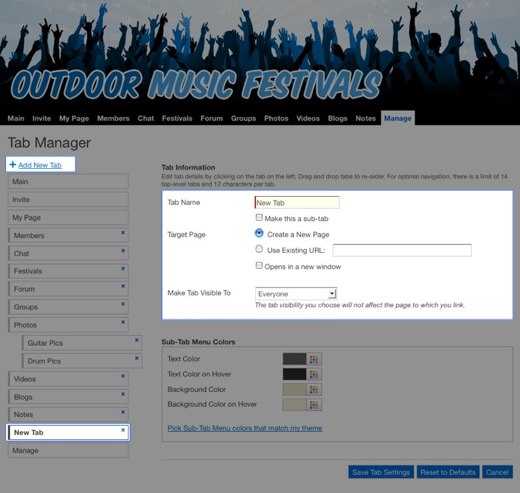 From here, click the "Add New Tab" link in the top left of the page. In the "Tab Information" section, edit the tab's name and select a "Target Page." This is where your members will be taken when they click on the tab. If you choose "Use Existing URL", you can choose any URL. It can be internal to your social network, like a blog post with your social network's guidelines, or external, like a popular search engine.
You can create a fresh Page on your social network by clicking "Create a New Page", or point the tab to a specific page by clicking "Use Existing URL".
Click the "Save Tab Settings" button at the bottom of the page. Your new tab has been created!