Celebrate Mom's Nite Out with Momlogic
Ning Network Spotlight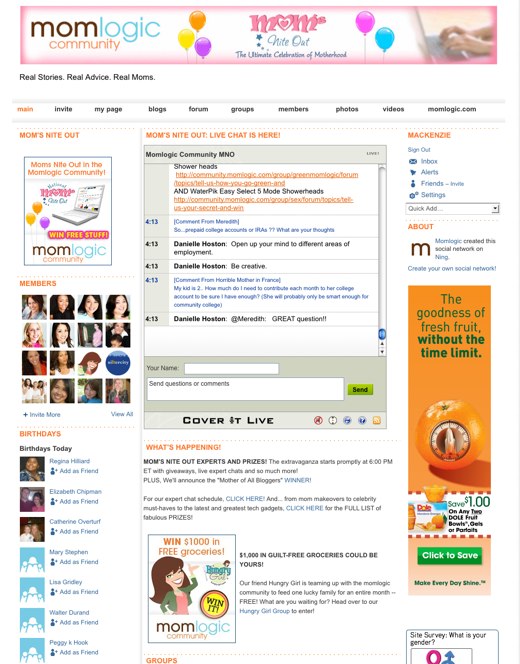 Momlogic is "the ultimate destination for Moms who want to know a little bit about a lot of things, but have very little time." Their social network, the Momlogic Community, is a hot spot for moms across the country to connect, share experiences, and delight in the "perfectly imperfect experience" of motherhood. Members share photos and videos of their loved ones, and post blogs and video diaries of daily life and the challenges they're taking on, like Christina Montoya Fiedler's "Zip up your jeans" health and fitness video diaries.
The group directory on Momlogic, created using the Pages feature, neatly organizes the most popular of the over 250 groups. Members can quickly find groups they might be interested in, whether they're based around specific locations, hobbies, entertainment interests, or business interests.
Tonight, Momlogic is teaming up with National Mom's Nite Out to host a virtual party on the social network. Party goers have a chance to win tons of cool prizes, like DVD collections and designer crib sheets, just by joining the Mom's Nite Out group and replying to a discussion.