Connecting music fans to musicians at the SF Symphony social network
Ning Network Spotlight
Your Ning Network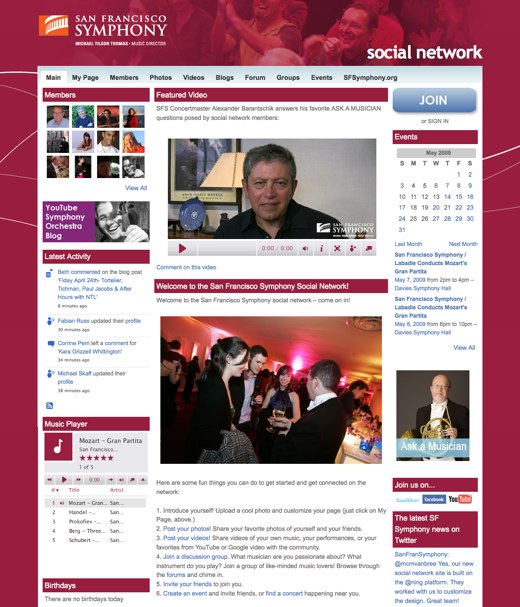 The San Francisco Symphony launched their social network on Ning today to connect music fans with the musicians and music they love. The new San Francisco Symphony social network offers fans behind-the-scenes content like pianist Yuja Wang warming up for a concert. Yuja Wang is also a member of the social network, so fans can visit her profile page or plan to see her at several upcoming events including an open rehearsal and performance.
The SF Symphony social network has added several pieces of fresh content to help members get to know the musicians of the San Francisco Symphony. In a video interview, SFS Youth Orchestra Music Director Donato Cabrera answers 5 questions including "What was your first impression of the SFS Youth Orchestra?" and "What do you enjoy about working with young musicians?"
Fans of the SF Symphony also have an opportunity to pose questions to their favorite musicians as part of the "Ask a Musician" program. Concertmaster Alexander Barantschik kicks off this series in a ten minute long video where he answers several questions from members of the social network.