Customize your social network's badges
Ning's Tips and Tricks
Yesterday we talked about using your social network's built-in media players and badges to help spread the word about your social network. Media players and badges from your social network are branded with your watermark and link back to your social network.
Music, video and photo slideshow players show off the great content on your social network across the internet. Your badges are also a fantastic way to promote your social network on other websites you and members belong to, and they're easy to customize.
When you choose a theme for your social network, your badges will be automatically themed to match. You can further customize your badges by adding a background image, uploading a watermark, and even changing the text displayed.
If you've got a great image you want to be displayed on your badges, you can add it as the background image. If you want your social network's logo to be displayed on its badges, upload it to the watermark section, like Tu Diabetes has done. The watermark you upload will replace your social network's name, which displays in text by default.
By default, your social network's badges read "I'm a member of" and display your social network's name. You can easily update this text so the language on your badges matches the vibe of your social network.
For example, on Connect2Mums, a social network we wrote about earlier today, the Network Creator has changed the text on badges to read "Meet mums like you." This encourages people who see the badges across the internet to click through and check out the social network.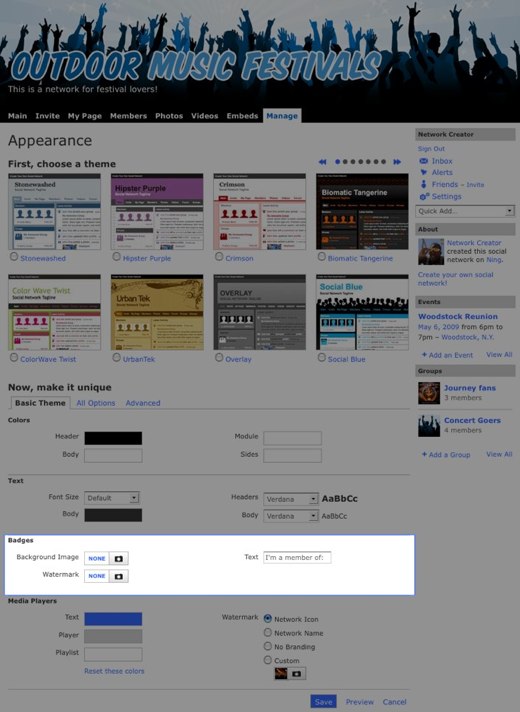 To customize your social network's badges, head to the Manage tab and click the "Appearance" link. Under the "Basic Theme" tab, locate the "Badges" section and customize away.