FITC's social network connects event attendees
Ning Network Spotlight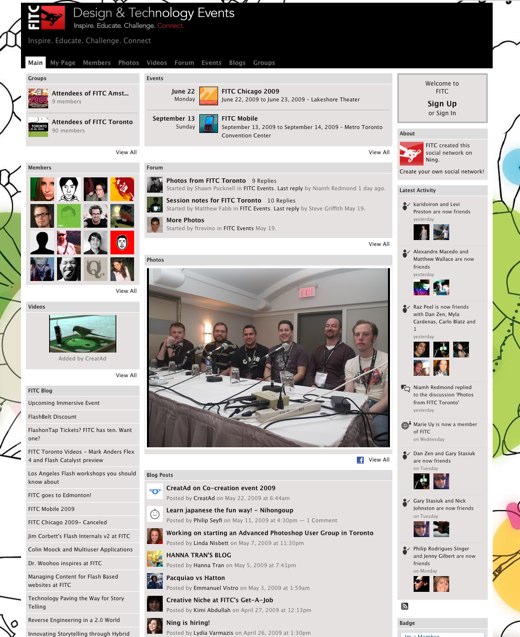 FITC runs events around the world connecting people passionate about Flash, design, and digital media. This year, FITC created a social network for event attendees to connect before the conferences and to share experiences, photos, and ideas after.
Members of the FITC social network join groups for the FITC events that have happened so far this year, Toronto and Amsterdam, and check out the details of the upcoming events, FITC Chicago in June and FITC Mobile in September. The Photos section is a great place to see what happens at the conferences, with albums from the Seoul 2008, Amsterdam 2009, and Toronto 2009 events.
I got the chance to catch up with Shawn Pucknell, the social network's Administrator and Director of FITC Events, to ask him about the FITC social network. Check out his answers after the jump.

Why did you create the FITC social network?

The goal was to create a social network for attendees of our events, something that was simple to set up and allowed our attendees to meet others, share photos and videos and stories. To connect. I'm happy to say that Ning definitely was the right tool for this. It was incredibly easy to set up, to add features, to customize it exactly how we wanted.
What feature has been most useful on the FITC social network?
I'd say its not one feature, but the overall ease of set up and modifying that's been the most useful aspect for us. We did not want to invest a lot of time or money in a custom solution, and the other options that are out there were either too complicated to set up and manage, or were not customizable to our needs. I can't stress how much we really were blown away by how easy it was to set up and customize.
How did you and members use the social network before the conference?

Our social network is fairly new… and we're still seeing how our members use it. We've seen people start their own threads for different things, like job opportunities, or if they are looking for work, or to connect people from different regions or special interest groups. It's still developing, and it's very interesting to watch. We wanted it to be for our members, so the organic growth and things they are doing with it is very fascinating to watch. Our goal is not really to generate excitement, it's more about connecting the members and allowing them to create connections.
How have you used the social network since the conference?
We've really left it up to the members, as its there for them. It's great to see people talk about the events after they've happened, upload some photos, and connect with people that they met at the event.
Any advice for people creating a social network around an event or conference?
Don't add too much. Give your members the freedom to create what they want, and then let them use it.