Rename a tab on your social network
Ning's Tips and Tricks
Yesterday we talked about the Tab Manager, one of the built-in tools you have for customizing your social network so it's perfect for you. Adding new tabs to your social network's navigation is a great way to highlight the important content on your social network while making that content easily accessible to your members.
By default, your social network has a couple of standard tabs, including Main, Invite, My Page, and Members. When you add new features to your social network, like Photos or Videos, a new tab will be automatically be created that links to that feature's page. The names for all of the tabs automatically added to your social network are standard.
Another great and easy way to customize the navigation on your social network using the Tab Manager is to rename a tab. You can easily update the names of your tabs so they match the vibe of your social network. For example, you may want to rename "Main" to "Home," or call the "Members" tab "Fans" or "Neighbors."
On the Nashville Fashion Group, a social network we wrote about yesterday, the Network Creator has renamed the Photos tab to "LookBook." This new name lets members know what the Photos section should be used for: photos of their favorite designs and shots from recent fashion shows.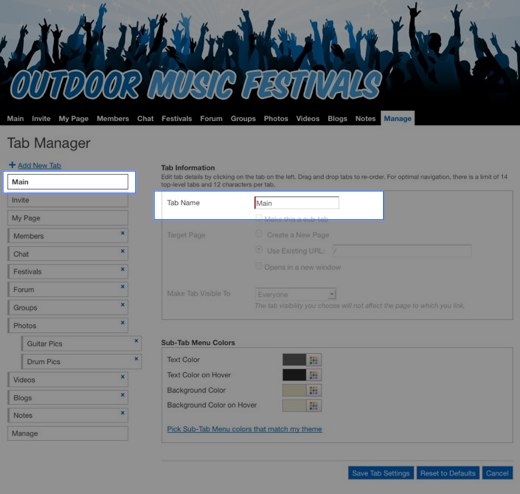 To rename a tab on your social network, head to the Manage tab and click on the "Tab Manager" option. In the left side of the page, click on the tab you'd like to rename. Under the "Tab Information" section, type the new name for your tab, up to 24 characters. Click the "Save" button, and enjoy your new tab name!