5 questions for My Modern Metropolis
Ning Network Spotlight
People Profiles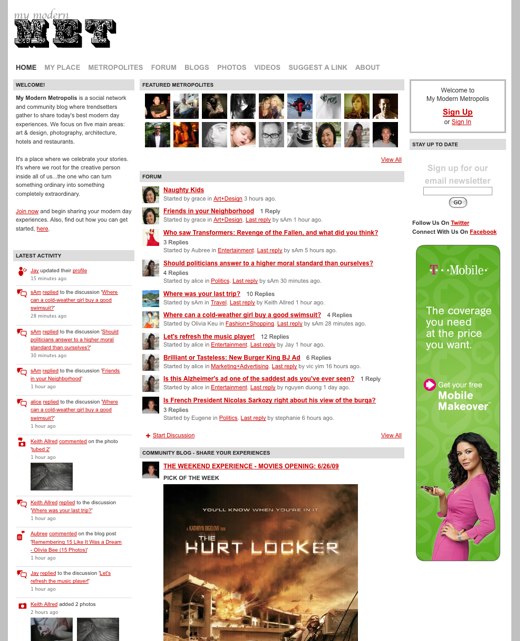 My Modern Metropolis is, by their own description, "a social network and community blog where trendsetters gather to share today's best modern day experiences. We focus on five main areas: art & design, photography, architecture, hotels and restaurants." Alice created the social network over a year ago and it's grown to 2500 members, or "Metropolites" as they call themselves. Members chat about movies opening this weekend, creative ad campaigns and what music to play in the main page music player.
I recently chatted with Alice, Network Creator of My Modern Metropolis, to find out the inspiration behind her social network and how she's gotten the word out.
Where did the idea for My Modern Metropolis come from?
The idea sprung up after a trip to Europe with my husband. After traveling through Italy and Greece I became inspired by all the wonderful works of art and architecture. The trip got me thinking about where modern art was going and how technology is making it easier for us to share in our experiences. More than anything, I'm fascinated by people and their stories. I'm interested in knowing where creativity springs from and how we can each build upon each others' work to advance society.
What feature is most powerful on your social network?
The blog is central to our social network and is the feature our members most appreciate. My brother and I run the social network and we try and make sure that we're constantly providing fresh and new content. By scouring the web day after day we're able to bring to the Met the most interesting, inspiring content.
You have a "rock star blogger" section on your social network, where you list the number of featured blog posts each member has written. Can you tell us where the idea came from? Has it been successful?
The "rock star blogger" section idea came from my brother-in-law, Danny. More than any other type of reward, we think that people just want to be recognized as a top contributor. After we put up that box we saw a spike in the number of blogs that were written, and we just started giving away gifts to our top bloggers to reward them for their featured posts. It's definitely been a successful feature.
How have you gotten the word out about My Modern Metropolis?
The great thing about our social network is that we grew virally, without any paid advertising. We became a member of other, larger social network sites like Stumble Upon, Reddit, Digg and Twitter and those became the places where our blog posts would go viral.
Do you have any advice for Network Creators looking to grow their social networks?
The best advice I can give is to be passionate about what you do. Your excitement and energy needs to come through in order for others to feel it. Also, no one is going to believe in your network if you can't believe in it first. That takes time. Success comes in the comments or feedback you receive. Cherish those moments.