A little more context on your social network's new Latest Activity
Updates
As we announced previously on the Ning Blog, our next release – currently scheduled for June 25th – will bring back profile photos to the Latest Activity feature.
The data is stark showing the effectiveness of clickthrough rates to Profile Pages and content from the Latest Activity feature when member photos are displayed vs. the current icons. As a result, we will be making a wholesale change from icons to profile photos on the Main Page or your social network-wide Latest Activity feature. There won't be the option to keep the icons. We talk a little more about this decision here.
As part of this move, your Latest Activity feature may show a few less items in the same space it occupies today. While it depends on which types of items are shown in the Latest Activity feed, the new Latest Activity feature with profile photos, using the same mix of activity items, displays about five-and-a-half items "above the fold":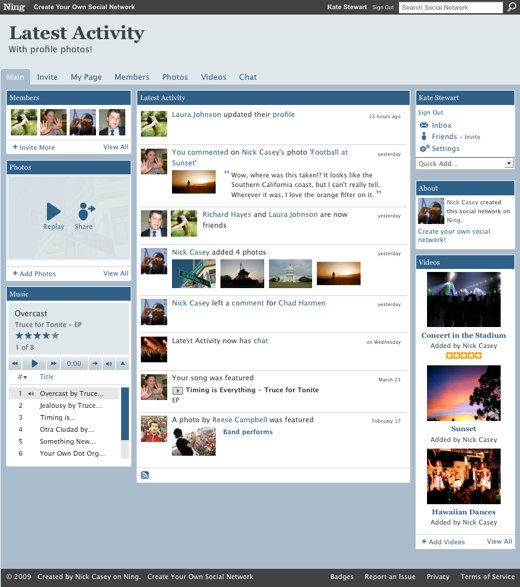 On the current Latest Activity feed in the same space it shows six-and-a-half items. It's a difference of between 1-3 activity items difference depending on the items.
Additionally, with the new Latest Activity feature in the center column of your social network's Main Page, you will notice that the profile photos are larger than they are in the right or left hand column. In the left or right hand columns, the profile photos are 32×32. In the center column they are 48×48. The reason for having the two different sizes is because from what we've heard from you, you use the Latest Activity feature in slightly different ways depending on where it is placed in your social network.
In the center column, the goal is to make the Latest Activity feed the primary feature of your social network, which is certainly one very effective way of creating and structuring a social network. In the right hand column, the Latest Activity feature serves as more of a quick dashboard that is meant to be persistent as your members navigate your social network.
Different size profile photos and activity items in the center column vs. the left or right columns reflect the different roles the Latest Activity feature plays depending on its placement. While it might take a bit to get used to it, we appreciate keeping this rationale in mind as you explore what's going to be right for your social network.
As always, we're happy to answer any questions and appreciate your feedback at the Ning Help Center. Thanks!