New advanced management options
Updates
As we mentioned Sunday, the upcoming release to your social network contains a new bulk media uploader and a new list view of the Members and Friends pages. This release, now scheduled for July 7, will also include some new Advanced Options and other improvements making it easier to manage your social network. Additionally, we're making it easier for members to manage their profile pages by adding a "My Page" link to the Settings page.
Advanced Options for managing your social network
In the upcoming release to your social network, we're adding three advanced options for Network Creators to manage their social network. These are the new features:
Domain Redirection: If you've purchased and set up the "Point your domain name to your social network" premium service, you can make sure all traffic to your social network appears under your domain name.
Google Webmaster Tools: See Google's view of your social network, define a preferred URL that you'd like to show up in search results, and set how frequently Google should crawl your social network.
Robots.txt file: Edit and control which pages of your social network are indexed by search engines.
You'll be able to access each of these features by clicking the new "Advanced Options" link on the Manage tab: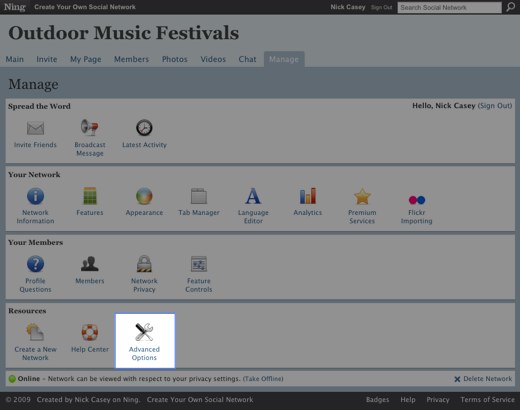 Improvements to approving and moderating content
In addition to these Advanced Options, we've also made a number of improvements to the process of approving content. Network Creators and Administrators will now be able to see private photos, events, and blog posts in their entirety before deciding to approve them.
Also, to make it easier to organize and categorize content, Network Creators and Administrators can now edit tags and titles of content, and add tags to members' content. Tags added by Network Creators and Administrators won't be editable by the member who added the content. However, if a Network Creator changes a title and the member decides to change it back, the member's title will stand.
New My Page controls
We've added a "My Page" link to the page you see when you click "Settings." This link replaces the "Appearance" link that you see today, and offers an expanded set of controls in one central location. By clicking on the "My Page" link, you'll be able to change your profile photo, set your profile page's theme, and choose your profile page's address. You'll also be able to manage Apps that you've added to your profile page. Here's how it will look: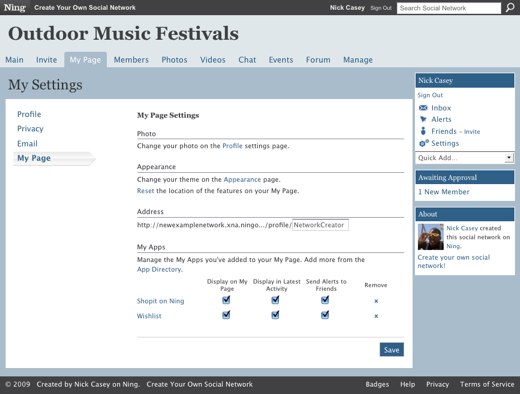 And that's it! As always, we're happy to answer any questions and appreciate your feedback at the Ning Help Center.