Celebrating 30 years of educational technology with NECC
Ning Network Spotlight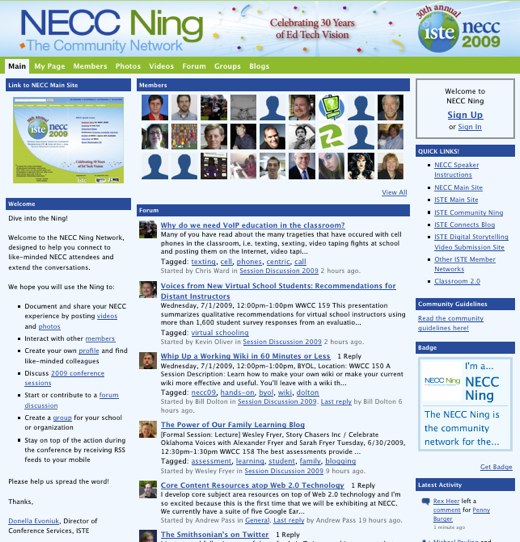 The National Educational Computing Conference is held June 28 in Washington, D.C. The social network for participants to connect, network and plan out their conference itinerary is NECC Ning. Creating a social network for a conference is a great way to build excitement about a conference while providing a way for attendees to meet each other before the event begins.
With conferences and large meetings, attendees want to know who else will be there, so the NECC Ning has put its members module in the top of the middle column. By choosing to display small avatars and three rows of pictures, the NECC Ning has displayed the maximum number of members they can.
In addition to acting as a virtual meeting place for the conference, the social network is an outlet for professional development and collaboration. The forum is active daily, with posts on everything from teachers who use Second Life in the classroom to online classrooms in rural America. Because the tech-savvy brains behind NECC Ning know that some conversations begin on Twitter and not on the social network, they've added an RSS feed of every tweet that mentions NECC to the main page.
Let's start create educational website with Ning: https://www.ning.com/create-educational-website/