Connect with the Governor of Massachusetts
Ning Network Spotlight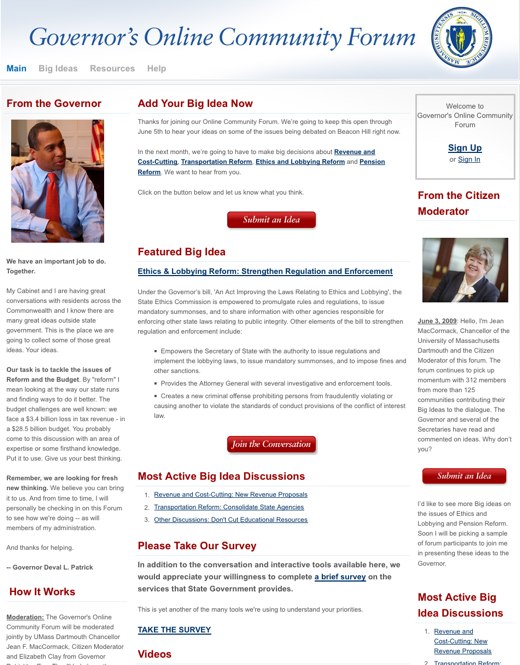 Governor Deval Patrick of Massachusetts uses his social network, the Governor's Online Community Forum, to connect with residents of his state to discuss the big decisions facing Massachusetts. To make up for a $9.4 billion budget gap, the Governor has proposed "a combination of spending cuts, reforms, new revenue and federal stimulus dollars" as detailed in this presentation he's uploaded to the social network. He's also engaged citizens to get their ideas on how to solve the issues the state is facing.
Through a series of blog posts, Patrick and the people behind the social network have explained the specifics of the issues and proposed resolutions. Members are encouraged to leave comments on the blog posts with their questions and ideas, and Patrick and his moderators respond to them.
Using the Tab Manager and the ability to create additional Pages of content, Patrick's team has organized the blog posts around the "big ideas": revenue and cost-cutting, transportation reform, ethics and lobbying reform, and pension reform. Those interested can quickly find the Governor's several proposals around each issue, and ideas proposed by members of the social network.