Find a job at Tampa Bay Creative Network
Ning Network Spotlight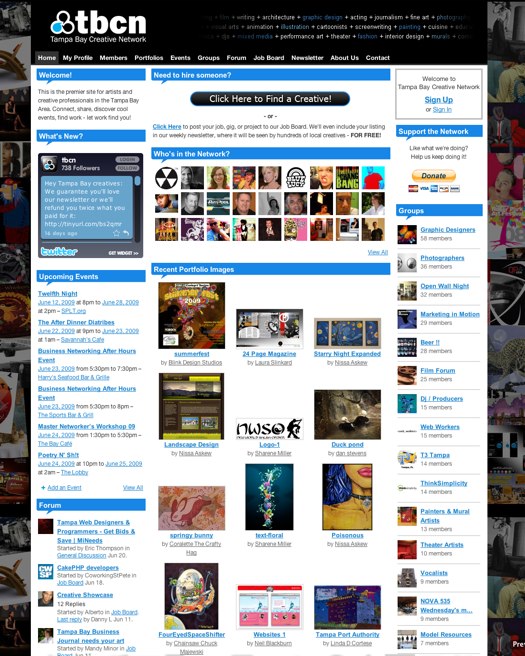 The Tampa Bay Creative Network is focused on connecting creatives who are looking for new projects with people who are looking for creative professionals. Creative professionals are encouraged to join the social network and upload their portfolios for free.
New members fill out customized profile questions like "Where do you work?", "What are your specialties?", and "What type of work you are looking for?". When members fill out these questions, their answers appear on their profile pages. Once they've joined the social network, new members are encouraged to upload copies of their work in the form of photos, videos or audio to show off their talents.
People who are looking to hire a creative professional can find the perfect fit by clicking on the "Click Here to Find a Creative!" button, which is the first thing most visitors see when they visit the main page. This leads visitors to an Advanced Search page, where people can search all members of the social network based on their responses to profile questions. They can also browse members using the Members or Portfolio tabs.
Members also use the forum to connect. In one case, Alberto puts out a call for local artists who would like to showcase their work at the Tampa Improv and several artists reply to the thread. By connecting creative professionals looking for work with people who have work, the Tampa Bay Creative Network hopes to "enhance the quality of life for local creatives and attract even more creative-minded people to the area."