Get the most out of your sub-tabs
Ning's Tips and Tricks
Brooklyn Art Project is a social network for artists connected to Brooklyn, and it's home to a diverse set of styles and art forms. Brooklyn Art Project organizes and showcases its talented members by making great use of sub-tabs. As you can see by hovering over the "Members" tab, a sub-tab menu drops down with the different professions represented by members on Brooklyn Art Project, like painters, illustrators, and enthusiasts: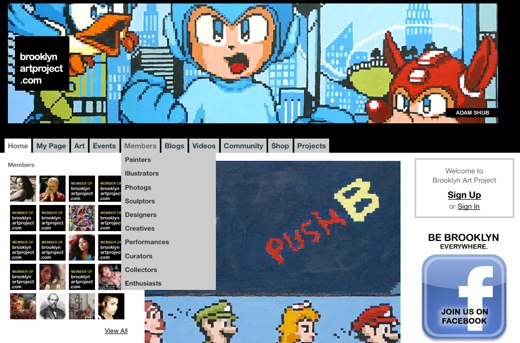 On your social network, you can turn any page into a tab or sub-tab using the Tab Manager. All you have to do is create a new tab, then paste the URL of the page you want it to link to into the "Use Existing URL" field.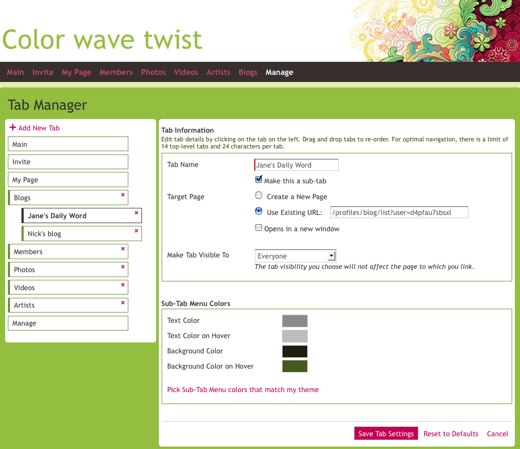 For example, Brooklyn Art Project has created their sub-tab menu by using customized profile questions and Member Search. They've plugged each profession into Member Search, and then pasted the resulting page as the target URL for the sub-tab. If you click on any of these sub-tabs, like "Curators," you'll see the page you'd see if you searched for members who listed their profession as "Curator."
Take advantage of the power to add sub-tabs to showcase the most important content on your social network. Here are just a few ideas:
Create an "Admins" tab and link to the profile pages of your Administrators with sub-tabs. This makes it easy for members to contact the right people with any questions.
Add sub-tabs under the "Groups" tab to highlight your favorite specific groups.
Under the "Blogs" tab, use sub-tabs to link to the specific member blogs that are generating the most excitement and debate.