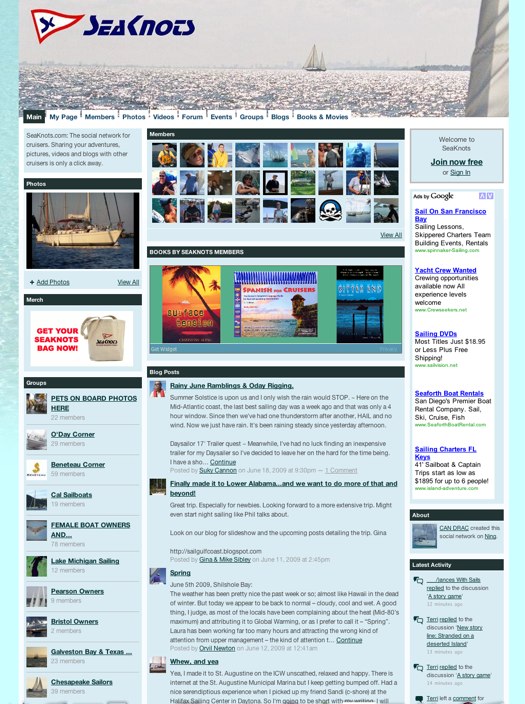 SeaKnots is a social network for people who love to sail. Many of the 2500 members show off profile photos of themselves on boats as well as photos of their boats: interiors, exteriors, and from afar. For animal lovers, a group is dedicated to sharing advice for caring for animals on board. Other members post photos of their pets onboard, including a dog laying on his favorite spot and an adorable Havanese puppy.
Members post upcoming sailing events and races including the Marion/Bermuda Race, which started on Friday and lasts until June 30th. Tote bags and t-shirts are also available for purchase from their Cafepress store, which they advertise using a text box on the main page.
Network Creators Andrea and Franc are currently sailing from New York to Lagos, Portugal with the goal of raising $1 for every mile, and to date they have raised nearly $6000.  They are donating the money to Charity:water, a non-profit organization that brings clean and safe drinking water to people in developing nations. Franc said in a recent interview with Sail Magazine, "We know what it's like carrying limited amounts of water aboard and often have to travel all day to fill up just with water from remote sources. But we do it by choice. Others have no other option."
Members can follow along on their journey by reading their blog, including a play-by-play telling of the first leg of their rally from Tortola to Bermuda. They write, "We never intended to race. But as we set off on the first leg of the ARC Europe rally, we could not resist the challenge of a good start. Over two dozen boats eager to cross a short line between a committee boat and an orange buoy at the sound of a horn was sure to be exciting!"
No related posts.