New Media Uploader and List View of Members
Updates
**Update: This release is now scheduled for July 7.**

Following on the heels of Thursday night's Chat and Latest Activity release, we have another release to your social network currently scheduled for July 7 Tuesday, June 30th. In this release, the bulk media uploaders that members use to add photos, videos, and music are being upgraded to make it easier to quickly add content to your social network. In addition, the Members and Friends pages will move from the grid view you see today to a list view to make it easier to skim members and make new friends.
Redesigned media uploader
We've redesigned the bulk media uploader to make uploading photos, videos and music as easy as possible. Here's how the new media uploader will look on the "Add Photos" page: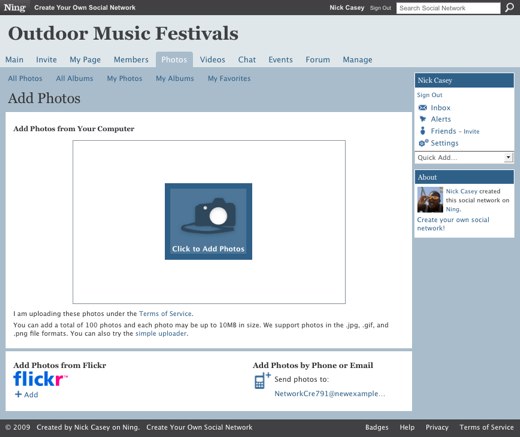 Just click the "Click to Add Photos" icon to select which images you'd like to upload: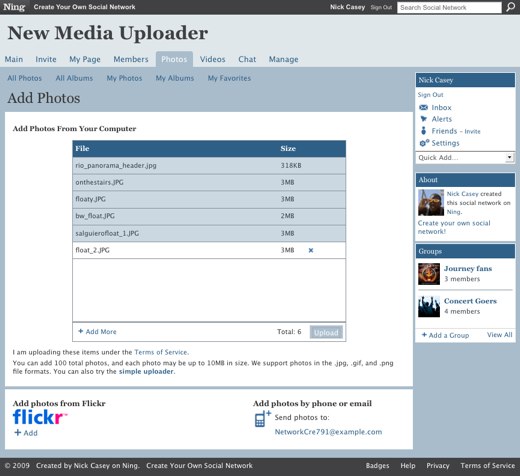 Once you've uploaded your photos, you'll be able to create a new album for them or assign your photos to an existing album you've created: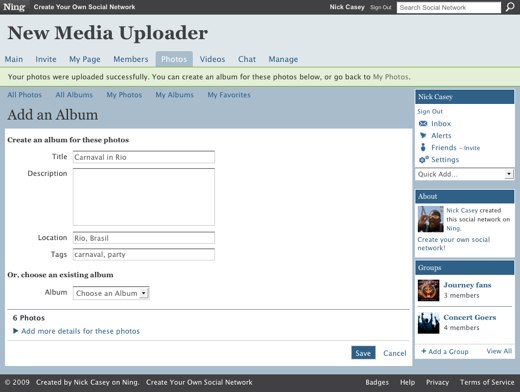 Uploading images straight to an album should make it much easier to organize your photos. From this page you'll also be able to rename photo titles, rotate your photos, and add descriptions and tags just by clicking the "Add more details for these photos" link.
New list view on the Members and Friends pages
Today, Members and Friends pages display members in a grid view. With this release, these pages will move to a list view. This will make it easier to get a skimmable view of members, find new friends, and take the actions — Add a Comment, Send a Message, Add as Friend — that make sense for these pages.
At launch, these pages will display up to 21 members per page (the same number you see today). We'll monitor activity on the Members and Friends pages, and if it makes sense we'll reduce the number of members per page to 10.
Here's how the Members page will look to a regular member: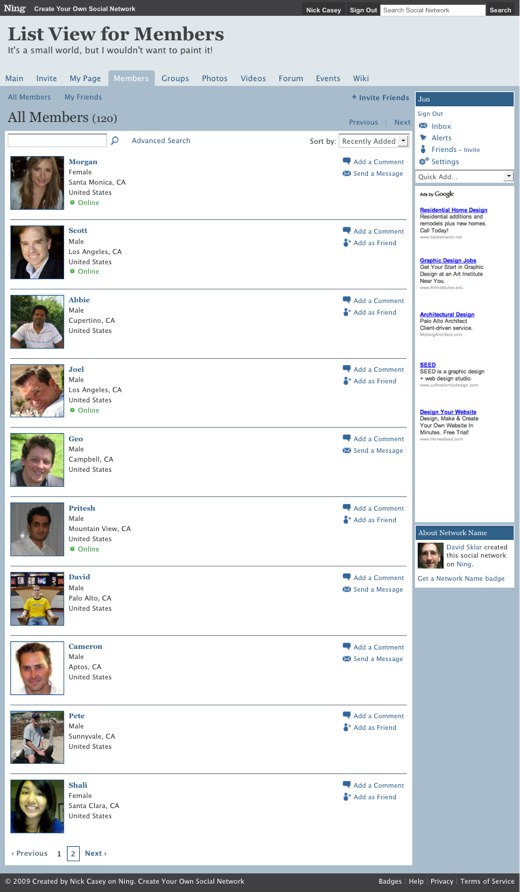 In addition to the "Add a Comment", "Send a Message" and "Add as Friend" links, Network Creators and Admins will see "Feature" and "Ban Member" links. This change won't be optional for some of the same reasons we didn't make the profile photos on the Latest Activity feature optional last week: we've got early data showing that this display will be more effective for driving more page views and fostering friendships between your members than the current one.
We appreciate that this is a new look for the Members and Friends pages and it might take some time to grow on you. While we want your feedback in any case, give it a try before hating it. If after a few weeks you still can't get used to it, by all means let us know what's happening on your social network.