Administrators can help moderate your social network
Ning's Tips and Tricks
Moderating your social network – and doing it right – is key to building a positive reputation. While your social network is equipped with the tools to let you review all new members, photos, videos, groups, events, and even blog posts before they're added to your social network, turning any of these moderation controls may slow members down from participating in your social network and making it an active, happening place. A great way to make sure content on your social network is appropriate without slowing down activity is to experiment with getting your most active members to help you moderate the social network by making them Network Administrators.
Promoting members to Administrators gives them a few important privileges, so choose the people you trust the most to help you moderate your social network. Administrators will likely feel more ownership over your social network and its success, so they can help drive participation and interaction between other members. They can also help you keep an eye on the social network to make sure your guidelines are being followed.
When you promote a member of your social network to Administrator, they'll have access to the Manage tab. Here are the features they'll be able to access from the Manage tab: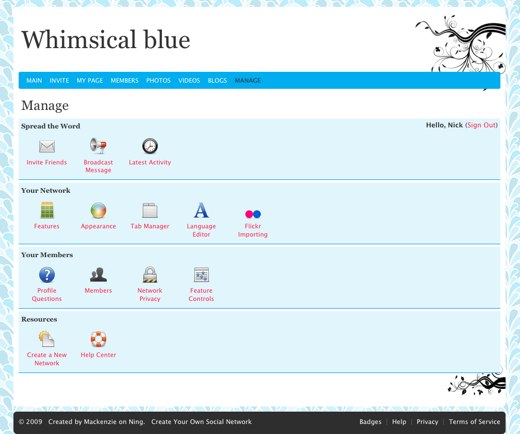 After the jump, more details on specific privileges that Network Administrators have in comparison to your control as the Network Creator.

As the Network Creator, here's your view of the Manage tab: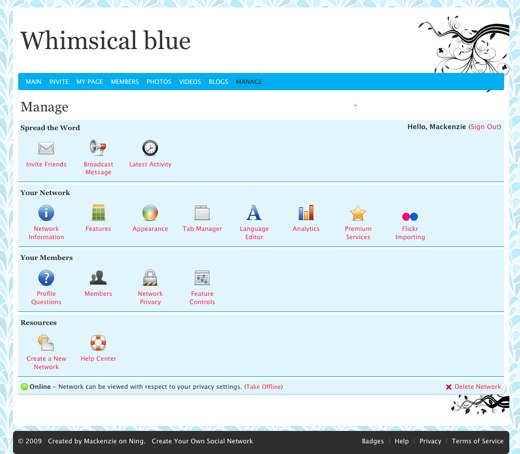 Note that Network Administrators do not have access to the "Network Information" and "Analytics" sections. They also cannot purchase or cancel premium services, take your social network online or offline, or delete your social network.
To promote a member to Administrator status to help you moderate your social network, head to the Manage tab and click on the "Members" link. Locate the person you'd like to be an Administrator and check the box next to their name. Then, from the "Actions" dropdown, select "Set Role: Administrator."
Check back tomorrow to learn how to set up multiple levels of administrators to get even more help moderating your social network.