Blog to Lose
Ning Network Spotlight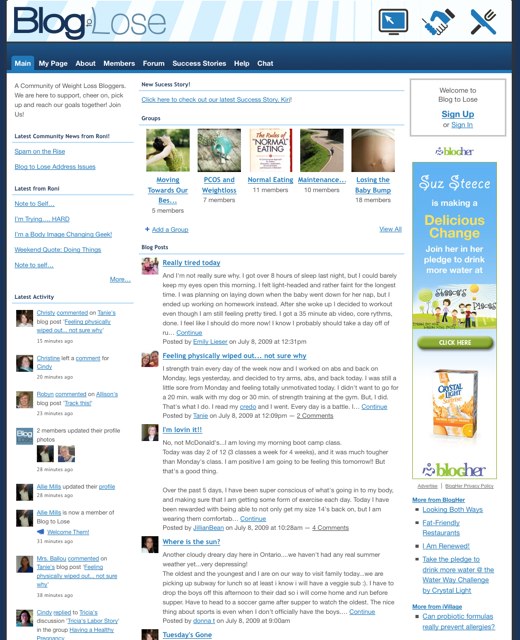 On Blog to Lose, people who write about their weight loss journeys gather to help each other reach their goals. Many of the members of Blog to Lose are just starting out losing weight and are looking for support. Others have succeeded in achieving their weight loss goals and are ready to celebrate.
Network Creator Roni knows how both sides feel: a few years ago, when she began losing weight, she started a blog where family and friends could support her and track her progress. The blog helped her lose 70 pounds, and she started Blog to Lose to provide support and encouragement for people at all stages of weight loss.
Members of this social network post food journals, swap recipe ideas, vent about diet struggles, and celebrate victories together. They proudly share before and after photos as well as shots from achieving their fitness goals, like completing a 10k, in the Photos section. There's even a page on the social network, created using the Tab Manager, that's dedicated to telling the success stories of members.
Groups allow members to organize by specific interest or weight loss plan, like those trying to lose their baby weight, members following the Weight Watchers diet, vegetarians, frugal dieters, and people trying to lose 100 pounds or more. With such actively blogging members, it's no surprise that Blog to Lose highlights the most recent blog posts front and center on the main page.