Manny's Music: The Virtual Wall of Fame
Ning Network Spotlight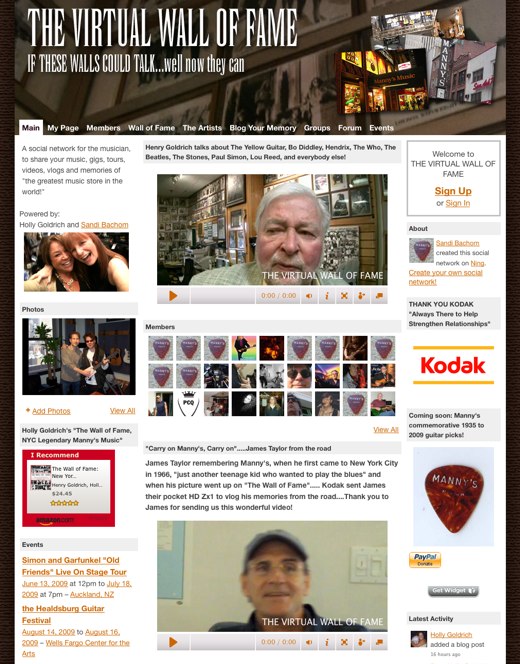 Manny's Music, a musical instrument store in New York City opened by Manny Goldrich, closed its doors at the end of May after nearly 75 years of business. The store, long known as a landmark and icon, was a frequent stomping grounds for musicians from the Who to Paul Simon to Jimi Hendrix and had over 5,000 photos of musicians covering the walls.
When filmmaker Sandi Bachom heard that Manny's Music was closing, she decided "there had to be a way to pay tribute to such an important chapter in American musical history closing." So she got introduced to Manny Goldrich's granddaughter, Holly, to discuss filming a documentary. After talking it through, they hit upon a new idea: create a social network on Ning "for lovers of Manny's to share their memories of a place so dear to their hearts," Sandi said.
Sandi and Holly named their social network Manny's Virtual Wall. Their vision was to scan photos from the walls of the music store and film video interviews with some of Manny's regulars to share on the social network, and they quickly began tracking down musicians to interview for the project. The closing of Manny's and the new social network was even featured in the New Yorker.
Videos on Manny's Virtual Wall play an important role. Sandi has interviewed dozens of musicians and Manny's regulars and uploaded them to the social network, from this clip of James Taylor remembering his first visit to Manny's to Paul Simon reminiscing about buying his first guitar there when he was 12 to Tim Robbins discovering his father's photo on the walls of the store shortly before it closed.
"My favorite are the first interviews I did with Henry Goldrich talking about The Beatles, The Stones and Hendrix, The Who," she said. " This is a man who played such an important role in these musician's lives, all the artists we know as superstars, Henry sold them their first guitars and, in some cases, gave them credit when they had no money so they could buy their first instruments. This is hugely important and a great story to tell."
Sandi has also said that "the best part about the social network is uploading my video interviews the same day, and being able to upload YouTube videos of performances of all the artists we interview or who blog," and she's created Pages to organize multiple videos and other information for each artist featured.
With the help of the Tab Manager, Sandi named the photos tab on the social network the "Wall of Fame," and started uploading the photos that lined the walls at Manny's, including signed promotional shots of The Beatles, U2, and Bob Dylan. Members also began uploading their own photos and memories from Manny's, and even connecting with childhood friends.
"It makes me very proud to have been a part of this, to have facilitated, in some small way, a place to share these feelings, which would have not been possible were it not for Ning," said Sandi.