Tonight's release is live! July 7, 2009
Updates
We're excited to announce that tonight's release, which we talk about here and here, is now live on your social network. Highlights are below:
Redesigned media uploader
We've redesigned the bulk media uploader to make uploading photos, videos and music as easy as possible. Here's how the new media uploader looks on the "Add Photos" page: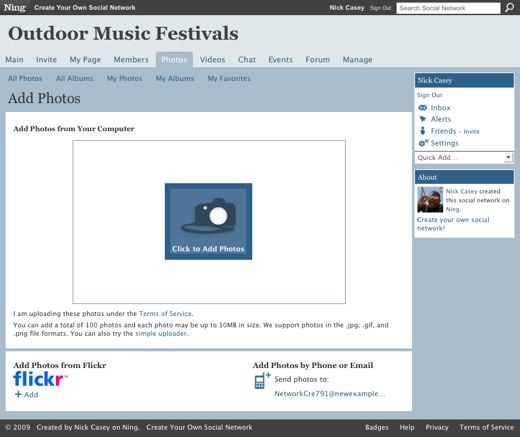 Just click the "Click to Add Photos" icon to select which images you'd like to upload. Once you've uploaded your photos, you'll be able to create a new album for them or assign your photos to an existing album you've created. See this post for more details and screenshots.
New list view on the Members and Friends pages
With this release, Members and Friends pages now display in a list view. This should make it easier to get a skimmable view of members, find new friends, and take the actions — Add a Comment, Send a Message, Add as Friend — that make sense for these pages. We have early data showing that this display will be more effective for driving more page views and fostering friendships between your members than the previous grid  view.
Here's how the new Members page looks: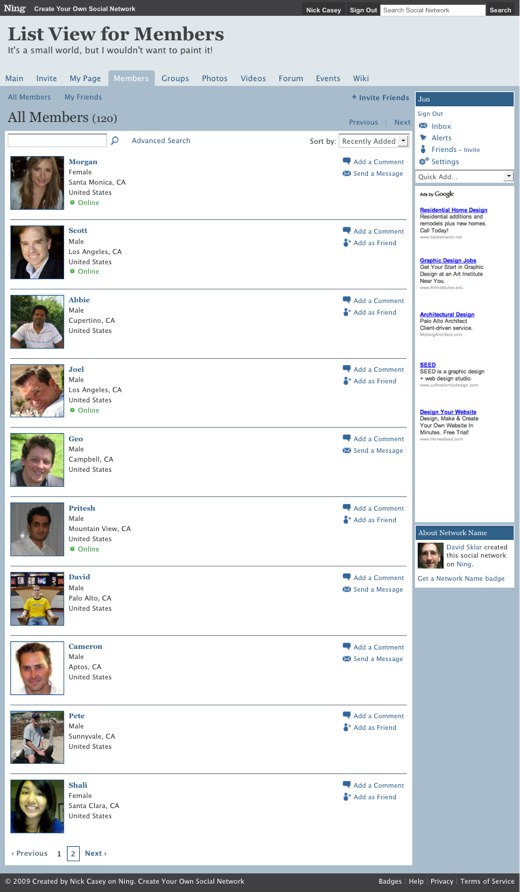 We appreciate that this is a new look for the Members and Friends pages and it might take some time to grow on you. While we want your feedback in any case, give it a try before hating it. If after a few weeks you still can't get used to it, by all means let us know what's happening on your social network.
New advanced management options
As we outlined here, your social network's Manage page now has an "Advanced Options" link where you can set up Google Webmaster Tools and edit your Robots.txt file. If you have the Point your domain name to your social network premium service, you'll also see a Domain Redirection tool.

In addition to these Advanced Options, we've also made a number of improvements to the process of approving content. Network Creators and Administrators will now be able to see private photos, events, and blog posts in their entirety before deciding to approve them. Also, to make it easier to organize and categorize content, Network Creators and Administrators can now edit tags and titles of content, and add tags to members' content. This post has further details on the new advanced management options for your social network.
Finally, we've added a "My Page" link to the page you see when you click "Settings." Here's how it looks: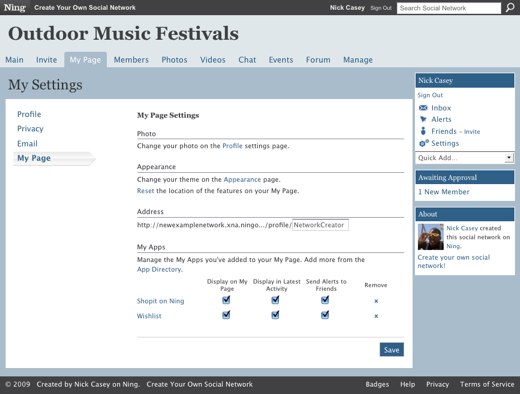 In our ongoing effort to make your Ning Network as easy-to-use and speedy as possible, we've put in place a new 5 App limit for Profile Apps. You shouldn't see any change to your or your members' profile pages, but there will no longer be the additional "My Apps" page with room for more than 5 Apps. The reason for this is that (a) not many people were using this, and (b) having this feature that not many people were using was also slowing things on your Ning Network down unnecessarily.
If you were using this feature and miss it, drop us a note. We'd love to hear your feedback and we're happy to answer any questions in the Ning Help Center. Thanks!