Upload videos to your social network
Ning's Tips and Tricks
With the Videos feature you can upload videos, from funny clips to screencast tutorials to your social network. Uploading videos directly to your social network means that they can easily be shared across the web in your branded media players, which link back to your social network.
The easiest way to add videos to your social network is with the newly updated flash uploader, which allows you to add up to 30 videos at a time. To upload videos directly to your social network, go to the Videos tab and click the "Add Videos" link. Then, click the "Click to Add Videos" icon to select which videos you'd like to upload from your computer.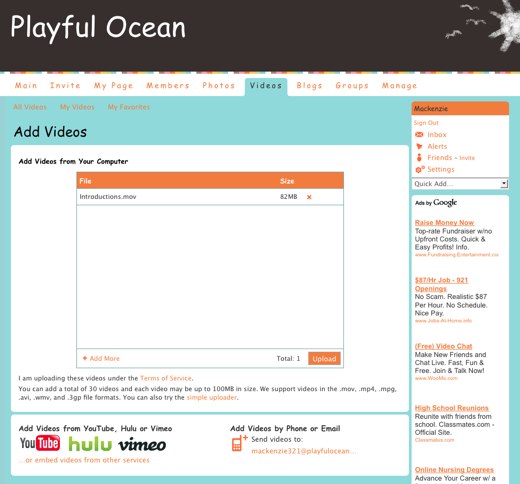 If you want to select multiple videos at a time, just hold down the "Control" or "Command" key on your keyboard and click the extra videos. Videos you've chosen to upload will display as a list on your social network. Click the "Upload" button, then wait while the videos are uploaded.
Next, you can add a Title, Description, and Tags for each video. When you're done, click "Save" if you've added more information. Head to the Videos tab to immediately start browsing your newly uploaded videos!