Upload videos with easy embedding
Ning's Tips and Tricks
Videos are one of the most popular features across social networks on Ning, and there are a few different ways you can add them to your social network. You can upload original videos using the recently updated flash uploaders. Videos uploaded this way can be branded for your social network with a watermark or logo and are a great way to promote your social network on other websites.
There are other video services out there with great content, and you can easily post videos from a variety of different providers — including YouTube, Vimeo and Hulu — to your social network. Just grab the "embed" code from the video's page, then head to your social network.
The easiest way to embed a video is with the Quick Add feature found on the right-hand side of any page of your social network. Choose the "Quick Add" drop down menu, and then select "video." From there, you can paste in your embed code and upload your video in a single step.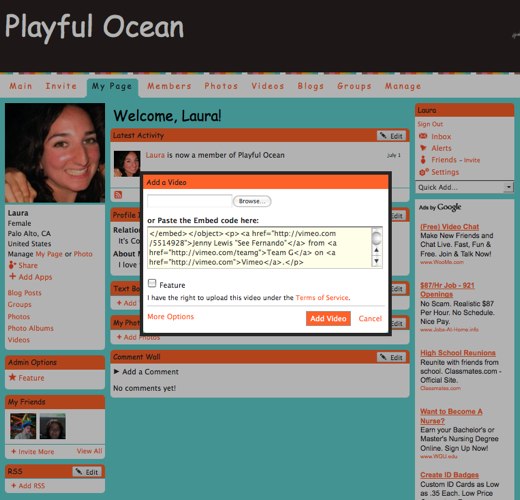 You can also easily add an embedded video on your video upload page. To do this, click on the Videos tab, and then select the "Add Videos" option. From there, select the option on the bottom left to embed a video from another service.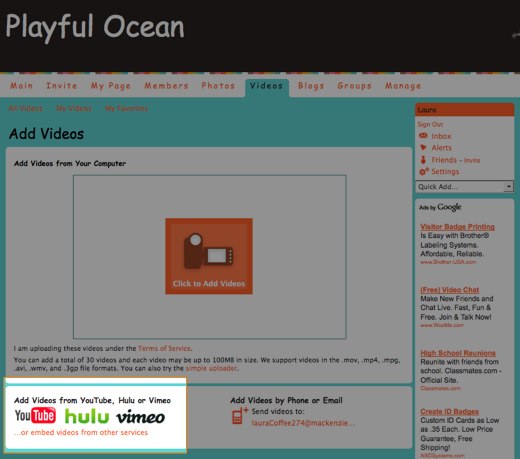 Once you paste in your embed code and click save, you can add a title and description, and set your video's privacy level. To watch your newly embedded videos, head to the Videos tab and enjoy!