Welcome to Jason's Place
Ning Network Spotlight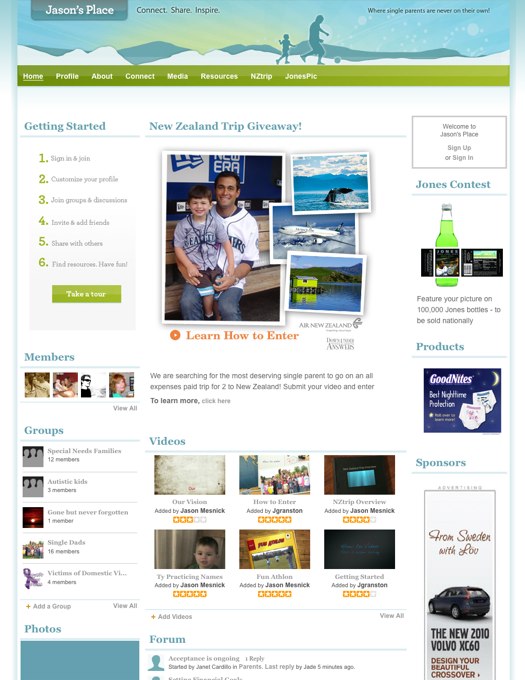 Bachelor star Jason Mesnick appeared with his girlfriend Molly Malaney on Good Morning America today to talk about their relationship and the new social network, Jason's Place. As he said on Good Morning America, "There are over 20 million single parents in the country, growing by 1 million every year. We've started an incredible website that's a combination of online resources and expert advice for single parents everywhere."
Jason has added a welcome video to introduce himself and the social network.  In the welcome video, he elaborates on why he wanted to create Jason's Place. When he became a single parent, he says, "I needed a lot. I needed support. I wanted to find someone who was going through the exact thing. Jason's Place is a place where you can get that support right away."
The goals of providing support and resources for single parents are apparent throughout Jason's Place, especially in the "Connect" and "Resources" tabs, which they added using the Tab Manager. Clicking on "Connect" shows members all the ways they can meet other people through the Forum, Blogs, Events and Groups. Under the resources tab, they've added resources for parents, kids, and health.
Jason's Place is running two promotions for single parents right now. The first is a New Zealand Trip Giveaway, which he is offering to "the most deserving single parent." He has added videos describing how to enter the contest as well as an overview of the trip. Jason uploaded these videos directly to Jason's Place and added a watermark to them so when people embed them on other sites, they'll be linked back to the social network. These videos drive people back to the social network.
He's also inviting single parents to submit photos of themselves in the Photos section. The winner of the photo contest will have their photo on 100,000 Jones soda bottles.