A week on center stage, for Broadway Impact
Ning Network Spotlight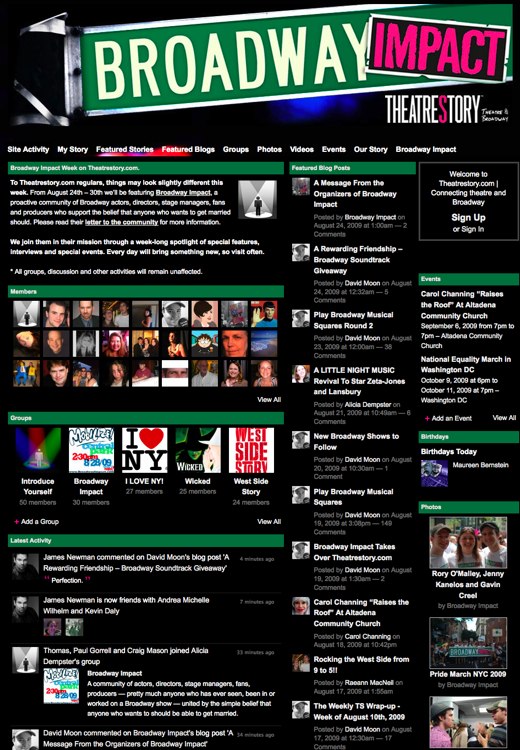 Theatre Story is a Ning Network that usually focuses on all the ins and outs of New York's Great White Way. This week, however, the focus of Theatre Story a little different; it's been taken over by Broadway Impact, a community of Broadway actors, directors, stage managers, fans and producers who support the belief that anyone who wants to get married should be able to.
In addition to sporting a new Broadway Impact header, Theatre Story also links to Broadway Impact with a tab and has a letter from the group's organizers. They write: "We started with the simple idea of getting a few letters written to the State Senate with hopes to show our friends and coworkers that getting involved was easy. As we began in those early stages, Broadway Impact learned that the majority of the people who we spoke to were eager to do more, but didn't know what or how to do it. We were often overwhelmed and confused by the political process and didn't know how to get more attention for our cause. So it became our goal to give our organization some "Broadway flair" and make it little more accessible, and slightly less intimidating − politics with a 'jazz hand!'"
Throughout the week — until Aug. 30 — there will be exclusive content posted by Broadway Impact, as well as an ongoing contest. Members can also join the Broadway Impact group to learn more about its marriage equality mission and find new ways to get involved.