Automatic iPhone redirect and more coming tomorrow
Updates
Tomorrow (Wednesday) evening, we'll be rolling out a brand new release to your Ning Network. This release makes it easier to use the mobile interface for your Ning Network by introducing an automatic redirect for anyone who visits your Ning Network from an iPhone. It also adds some more structure to the way Main Page features display, keeping your Main Page speedy and focused. Finally, this release refreshes the default layout for My Pages to add emphasis on the Comment Wall, making it easier for members to keep in touch with each other. Here's what's inside:
Members now automatically get taken to your iPhone interface
It's about to get a lot easier for members to check in to your Ning Network on the go. Starting tomorrow, whenever members access your Ning Network from an iPhone, they'll go straight to the mobile interface: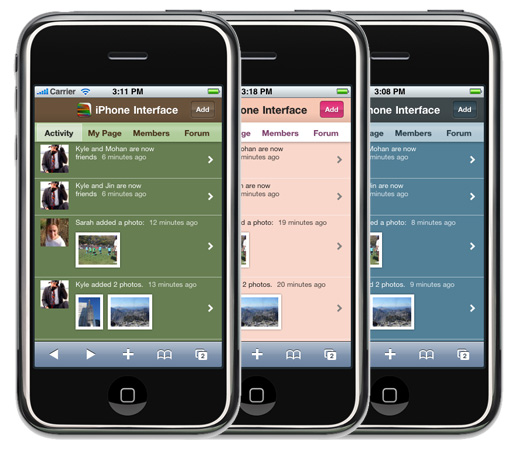 Snapping a mobile photo or video, uploading it from your phone, and then sparking a discussion around it will be easier than ever, making it simple for members to share their adventures as they happen.
Putting your best Main Page forward, part II
Earlier this month, we built in some best practices that help your Ning Network pass the 4-Second Rule. With this release, we're adding structure behind the size of the Text Boxes that display on the Main Page. Specifically, each Text Box can now contain 1 embedded widget and a maximum of 100K characters. If you have a Text Box with more, you'll just be prompted to trim things down the next time you click the "Edit" link to change what goes inside it. Additionally, Network Creators will see a warning message if they have more than 10 embeds on the Main Page. We're also making some minor tweaks to the display options for the RSS, Forum, Event, Birthdays, Photos, Notes and Blog features. Your current layout won't be affected, but if you click the Edit link next to a feature on the Main Page or your My Page, you'll see new options for the number of items to display.
Each of these changes is meant to position your Ning Network for success by creating a framework for features that encourages speed without stifling creativity or flexibility. If you're encountering any obstacles in this transition, we'll be happy to come up with a solution together in the Ning Help Center.
Giving the Comment Wall on your My Page the spotlight
One of the biggest drivers to your members' profile pages is their Comment Wall. To spur activity and make it easier for members to communicate, we're changing the default layout of My Pages to make the Comment Wall more prominent. The Comment Wall will now appear directly below the Activity feed, the Discussions feature will move above the Groups feature, and Videos will move to the left column. This change will only happen on a member's My Page if he or she hasn't customized the layout. And going forward, members will still be able to customize the layout of their My Pages to find the look that's right for them.
And that's it! As always, we'd love to hear your feedback and we're happy to answer any questions in the Ning Help Center.