What's on deck: Status feature and more
General
Ning News
Updates
Our team is currently working on the next big releases for your Ning Network, and we're excited to share those below. These key new features and improvements will make it easier than ever to join the conversations happening right now around your activities and interests. Here's what's in the pipeline for the next three months:
1. A new Status feature on your Ning Network. In September, we'll roll out a new Status feature for you and your members. A Status box will appear at the top of every My Page, and you'll have 140 characters to let members know what you're doing right now. This is your place to post a link to an upcoming concert, share an exciting announcement, or tell everyone about the mountain you just climbed.
Network Creators will be able to manage how status updates appear in Latest Activity, and whether the feature is enabled at all. Likewise, members will be able to control the privacy settings of their status updates. Here's what it will look like (click for the full-sized image):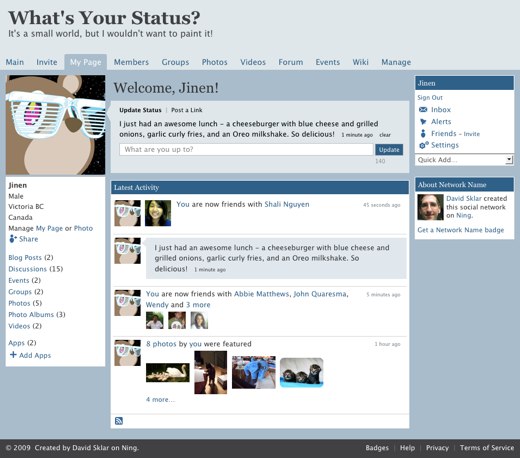 We'll have all the details and more screenshots for the Status feature shortly.
2. Improvements to notifications and broadcast messaging. A bit further down the road, starting in September November, we'll make sweeping improvements to the way notifications work on your Ning Network. For starters, we'll give you and your members more ways to keep up with what's happening. This means that the "Follow" option will be extended to events, forum categories, and videos. Additionally, when you comment on an item — like a friend's photo of the Talkeetna Range in Alaska — you'll automatically receive notifications when other people comment on it. This will drive activity back to the most talked-about member contributions, and will ensure that you're not missing out on the conversations you care about.
After making these improvements, we'll give our Broadcast Message feature a facelift and allow for HTML in the broadcasts sent to members of your Ning Network, guests of an event and members of a group. Finally, we'll make it easy to customize the message that is sent to new members when they join, and give Network Creators and Administrators a way to automatically leave a comment on a new member's Comment Wall. These updates are slated for late October to happen after the email notification improvements.
3. Your Ning Network on the go. We've had an iPhone interface for your Ning Network for some time, but it's about to get a lot easier for your members to engage on the go. In September, we'll set up an automatic redirect so that whenever members access your Ning Network from an iPhone, they'll go straight to the mobile interface. Capturing a mobile photo, uploading it from your phone, and then starting a discussion about it will be easier than ever, and members will be able to share their adventures as they happen.
4. Fostering real friendships. We've heard from some of you that occasionally a member will join your Ning Network just to make a bunch of friends and invite them to their own Ning Network. Obviously this is not what friends are for, so we'll be building in some sensible limits on invites and friend requests that will only affect people who aren't using these features in the way they're intended. We'll have more details on these measures in the fall.
5. The gift of giving. Finally, we're really excited to introduce a Gifts feature, which will give you and your members a way to purchase gifts for each other. Whether it's a special occasion or just a random act of kindness, gifts will forge stronger relationships among members and add a new dimension of fun. We'll also give you a way to upload and customize your own gifts, so they'll be targeted to your Ning Network and will match your members' interests and passions. This means if you run a Ning Network for Harry Potter fans, you'll be able to add a Snowy Owl — or any other wizardly items — for your members to give to each other. We'll share the revenue earned from gifts with Network Creators, and we'll have lots more to say about the Gifts feature in the fall.
As for Ning Apps, we'll have an update in a separate post this week. And as always, we'll talk about other projects big and small here on the Ning Blog as we have more to share. We're excited about what's in store for the next few months, and we'd love to hear your feedback!