This Week! An update to Members pages and a change to Invitations
Updates
We're excited to announce a few new updates coming this week to your Ning Network:
1. We're updating the design of the Members and Friends pages so that more people show up even faster.
2. We're retiring the Invite All Friends feature where your members could invite their friends across Ning Networks.
Here are the details:
Update to the Members and Friends Pages
In July, we introduced a new list view for Members and Friends pages. The key tweaks we're making now are to move to smaller profile photos and display fewer lines of text per member. As a Network Creator, you'll no longer be able to ban members directly from the Members page and members won't see the "add as friend" or "send message" links. Here's how the Members page will look with this release: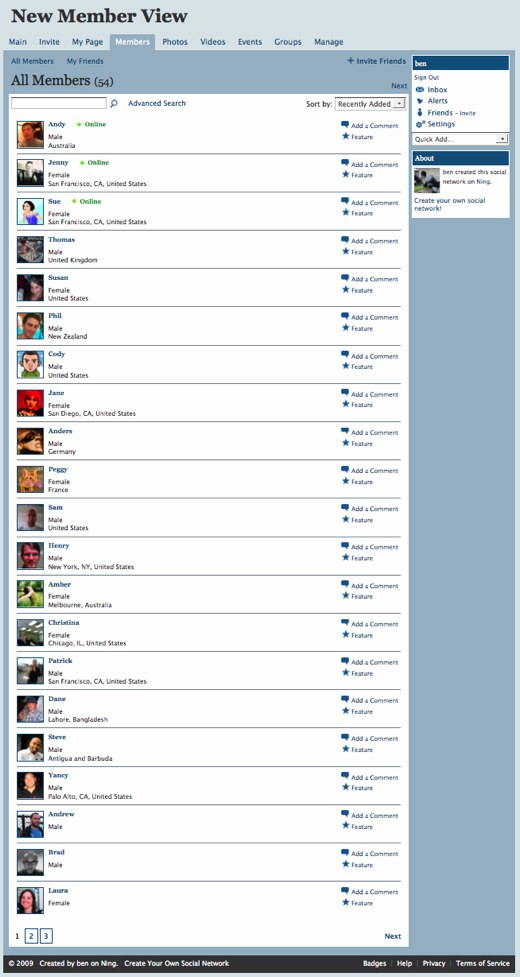 Retiring the Invite All Friends Feature
Yes, we're retiring the Invite All Friends feature. While many found this feature valuable, we think there are a slew of new, better features we'll be working on that will be even better for driving viral invitations and new members to your and other Ning Networks. Stay tuned, but in the meantime, we'll be removing the option to "Invite All Friends" this week from Ning Networks and in early October for Ning.com.
Last thing we're doing this week is re-enabling the iPhone redirect, so that your Ning Network on the iPhone will automatically enjoy your Ning Network's native interface.
As always, please let us know if you have any questions in the Ning Help Center!