Customizing the prompt text on Status
Ning's Tips and Tricks
The new Status feature empowers you to share information about activities with other members on your Ning Network and engage with people around those activities. While "What brings you here?" is the default prompt text for Status, you can always pick the perfect text for your Ning Network. For example, if you run a Ning Network for foodies, you might want it to prompt members to answer "What's sizzling on your stovetop?" It's simple to customize this text — just click the Feature Controls link from the Manage tab.
From here, scroll down to the Profile Pages section. You'll see a field next to "Default Text"; this is where you can enter your new prompt. Here's how it looks: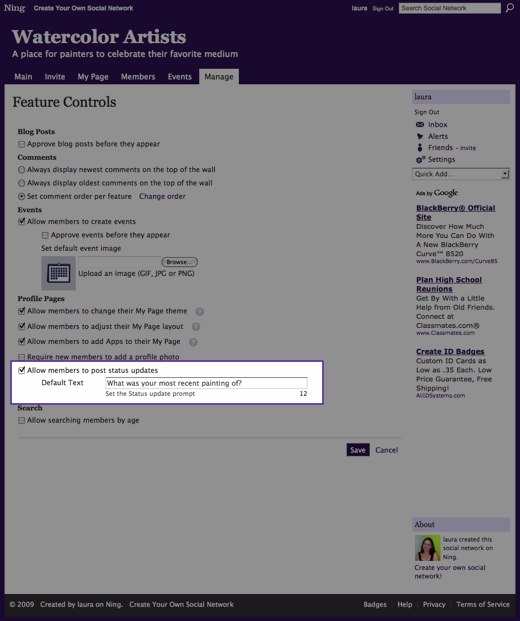 On the Ning Network for watercolor artists pictured above, the prompt has been changed to "What was your most recent painting of?" The only limitation in customizing your text is that it must be 50 or fewer characters. Clicking Save will update this across all member profile pages.
We'd love to hear how you've customized the Status prompt on your Ning Network. Let us know in the comments below!